Bromo Ijen Tour Package Price 3 Days 2 Nights. Quote price trip to Bromo and Ijen Volcanoes. The two most popular mountains in East Java, Indonesia for foreign tourists. The best schedule trip to Mount Bromo and Ijen from Surabaya, Malang, Yogyakarta or Banyuwangi (Harbor) to Bali.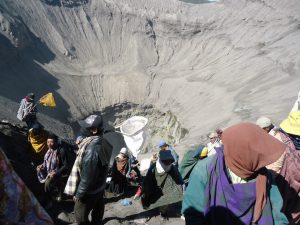 Bromo Ijen tour package takes 3 days 2 nights, by staying 1 night at Bromo in first and 1 night at Ijen on second day with picking point from malang or surabaya international airport or train station.
Note: It is possible to start the tour to Bromo Ijen from Yogya or Probolinggo by train.
(3D2N) Tour to Mount Bromo Ijen Package From Surabaya Malang Banyuwangi
Day 01: Pick up at Surabaya Airport to Mount Bromo
Pick you up on your arrival at Surabaya Juanda airport and transfer to your hotel in Bromo, need 4 hours driving. Upon arrival at Mount Bromo area chek in Hotel and feel the atmosphere of local villages. See bromo sunset from Cemoro Lawang Bromo.
Day 02: Bromo Sunrise Tour – Ijen Crater Blue Flame Tour – Hotel in Bondowoso or Banyuwangi.
Hike to Mount Bromo will start at 03.30 am. Pick you up from your hotel going to view point of Penanjakan by 4wd jeep to see the beauty of sunrise and the Bromo panoramic. Continued drive going down the hill and proceed the sand sea. From jeep parking are (near Pura Luhur Poten – Hindus Temple) then climb up or riding a horse to the peak of Mt Bromo to see the smokes craters. After finish tour to Bromo , back to hotel for having breakfast, showering and short break. After chek out drive to Ijen area. t need around 6 hours driving. Upon arriving at Ijen Bondowoso stay overnight at Catimor Guest House or Arabica Hotel. See Blawan Waterfals and free program.
Day 03: Ijen Crater Blue Fire Tour and Transfer out
Climb Ijen midnight tour or ijen blue fire tour start in 01.00 AM, after complete prepare for ijen trekking leave hotel to the wholeday excursion to Ijen Crater. Around 45 minute drive from Hotel to Paltuding Post. Continued trekking to Ijen Lake around 2 hours accompanied with local guide. Enjoy Ijen Blue Flame tour, Ijen volcano and panorama and see the activity of Ijeb sulfur minner. Ijen Crater is a special shows of volcanic type feature common to Indonesia, about 2 km in diameter and 200 meters deep. The floor is covered completely by a warm blue lake. After completelly explore the Ijen Crater. Trekking back down the mountain back to hotel for showering and etc. After chek out transfer out to back to Surabaya, Malang, Banyuwangi, Bali or Yogyakarta . End trip of Mount Bromo Ijen Tour Package.
Mount Bromo Ijen Tour Package Price 2019
| Participant | Price Per Person (IDR) |
| --- | --- |
| 1 | IDR 5,600,000/pax |
| 2 | IDR 3.050,000/pax |
| 3 | IDR 2,450,000/pax |
| 4 | IDR 2,150,000/pax |
| 5 | IDR 1,950,000/pax |
| 6 | IDR 1,700,000/pax |
Mount Bromo Ijen Blue Flame Tour Package Inclusions:
Private land transportation, include car, driver, petrol, parking and toll fee
1 Nite Hotel Accomodation in Mt Bromo (Cemara Indah Hotel, Cafe Lava Hostel, Bromo Permai Hotel with standart room – Nadia Hotel, Yoschis Hotel with superior room) ,
1 Nite Hotel Accommodation in Ijen area (Ijen View or Palm Hotel)
Entrance Fee to Mt Bromo and Ijen Blue Fire Tour
English Speaking Driver
Jeep tour to Mount Bromo
Breakfast and mineral water
Guide for Ijen Blue Fire Trekking
Gask Mask in Ijen Ble Flame Tour
Exclusions : Air Tickets, Personal Expenses, Travel Insurance, Meals (lunch and dinner)
Note : optional upgrade accommodation in Mt Bromo to Lava View Lodge , Jiwa Jawa Resort Bromo, Whiz Bromo , Bromo Terrace , Sumber Makmur Hotel , Bromo Eco Lodge. Ugrade accommodation in Ijen to Ijen Resort and Villas , Jiwa Jawa Resort Ijen etc.
How to Book Mount Bromo and Ijen Blue Flame Tour
Please email us detail of participant, date of planing tour and time for pick up or drop off (detail flight ticket or hotel address etc) to bromomalangtour[@]yahoo.com