Mount Bromo Milky Way And Sunrise Tour Package
Bromo Milky Way And Sunrise Tour Package,Most visitors to Mount Bromo to see the beauty of Sunrise but note that there is a phenomenon of natural beauty that should your enjoy namely "Milky Way Bromo".
Milky way is a collection of millions of stars that have a volume such as dust and gas located in the disk / galactic plane
The best time to see the phenomena milky way between at 01 am – 04 am.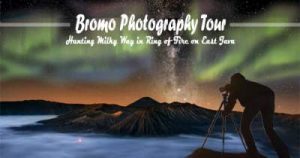 Itinerary Mount Bromo Milky Way And Sunrise Tour Package 2 Days 1 Night
Day 01 : Pick Up Point – Mount Bromo Hotel
Pick you up with a private car from surabaya airport or train station.Then went on a trip to the hotel in the area of Mount Bromo with a 3 hour duration.
Arriving at the hotel, then check in at hotel bromo to stay for one night while enjoying the atmosphere of Mount Bromo.
Day 02 : Bromo Milky Way – Sunrise – Savana hill and Whispering Sand – Transfer Out
This trip will be begun from your hotel at midnight (around at 00am) and use 4WD vehicle or jeep to reach the place which is best point to see Milky Way in Mount Bromo area. After spend your time to see Milky Way, you will be brought to Mount Pananjakan on the rim of Tengger caldera as known as view point to see sunrise with its young volcanic including Mount Bromo and an active Mount Semeru as background.
Afterward, our jeep will bring us to continue trip to reach the parking area of 4WD vehicle (jeep) by passing the amazing view on the slope of Mt. Bromo, then from parking area you are required to cross seas sand on the slope of Mt. Bromo by horse riding or on foot (it is optional) still reach the stairs up (more than 250 stairs) at the slope of Mt Bromo which it will lead you to reach peak of Mt Bromo.
After enjoy nice view in Mt. Bromo crater and around at 08:00 am continue trip for about 1,5 hour driving by 4WD vehicle/ jeep to reach "the savanna/ teletubies hill" by crossing the seas sand in Tengger region which it is bordered by mountains. After enjoying & take pictures, we will escort you back to the hotel for having breakfast. After having breakfast,loading your bags and transferout to surabaya. End our trip.
The price for Mt.Bromo Sunrise & Milky Way Photography 2D/1N please Contact Us
Tour incudes :
– Transport Private In Out (gazoline + driver)
– Accomodation 1 Night Hotel in Bromo (By Request)
– Entrance fee Bromo
– Jeep 4WD Mylky Way And Sunrise Tour Bromo