Mount Bromo Semeru Trekking Tour Package 4 Days 3 Nights is one bromo tour package expedition and surrounding. Bromo Semeru National Park is the perfect destination for your adventure plans. because here you can camping in ranu kumbolo, climb to the top of Semeru which is the highest volcano on Java island and explore the area of mt.bromo with jeep 4WD.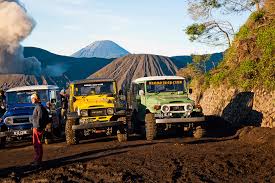 Mount Bromo Semeru Treking 4D/3N
Itinerary 1 :
Day 01. Surabaya – Tumpang Malang/Mt.Bromo Area – Tumpang Homestay
Pick up at Surabaya Juanda International Airport then Drive to Ranupane Village Via Tumpang Malang or Via Probolinggo (Mt Bromo Area) , Overnight at Simple Homestay Ranupane Village and free program.
Day 02. Ranupane – Ranu Kumbolo – Kalimati Camp
After breakfast,accompanied by tour guide and porters, we are doing trekking to Kalimati Camp or Arcapada Camp (about 6-7 hours). Having lunch and short break at Ranu Kumbolo. Stay overnight in Kalimati Base Camp.
Day 03. Semeru Summit –Ranu Pane – Cemoro Lawang
at 02.00 PM, climb to Arcapada than continued to summit about 3 hours, After Reaching the summit enjoying the amazing view, because Semeru is the highest land in Java . Then we descend from summit back to Kalimati (camp) to have breakfas and rest than continue to Ranu Kumbolo and after lunch continued trekking to Ranu Pane via Mount Ayek-ayek. After Arrived in Ranu Pane, having lunch and rest continued to Mountt Bromo by jeep crossing savannah. Check in Hotel in Cemoro Lawang. Free Program.
Day 04. Mount Bromo Tour – Surabaya
Bromo tour at 03.30 Drive to Mt Penanjakan view sunrise with 4WD jeep, enjoying sunrise and enjoy the magnificent view of Mt Semeru and Mountt Bromo .Then we will drive you through ocean of sands across to go to peak of Mt Bromo. Back to Hotel and transfer out to Juanda International Airport Surabaya. Trip Finished.
The price for Mt.Bromo Semeru 4D/3N please Contact Us
Facility :
– private transport pick up and transfer to surabaya airport (incl : car, driver, petrol, parking and toll fees)
– jeep 4wd Bromo Tour
– jeep 4wd Bromo to Ranu Pani Sub Village
– 1 nite hotel Bromo at Bromo Permai or Cafe Lava or Cemara Indah
– 1 nite simple homestay / guesthouse at ranupane village
– mineral drinking water
– tour guide
– porter
– entrance fee Mount Semeru
– entrance fee Mount Bromo
– camping & cooking equipment
– medical check up notices by local doctor
– 2xbreakfast ; 2xlunch ; 2xdinner (during Semeru Trekking)
– 1xbreakfast hotel Bromo
Bromo Semeru Trekking Tour Package 4 Days 3 Nights
What to bring :
Warm jacket, head cover, good mask, good grip shoes, sock, glove, sunblock, any medicine, torch light, raincoat (just in case),medical check up notices by local doctor.