Day Tour Mount Bromo For Sunset. Mount Bromo is in the Bromo Tengger Semeru National Park area which occupies four districts in East Java Province, namely Probolinggo, Malang, Pasuruan and Lumajang. To reach Mount Bromo, you can take the land route from Surabaya to Cemara Lawang Village, Probolinggo Regency or Wonokitri Village, Pasuruan Regency, while from Malang City, go to Tumpang Village, in the same direction as the road to Semeru Climbing. Arriving in the Bromo area, you have to rent a 4wd car to go to Penanjakan and explore the sea of ​​sand and the crater of Mount Bromo.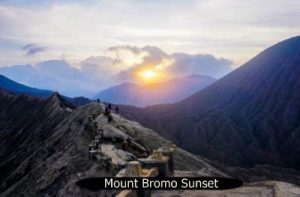 This mountain is very popular with beautiful sunrise views, usually tourists have to climb the morning to the top of Mount Bromo just to enjoy the beautiful sunrise. Besides sunrise, you should try to enjoy the other beauty at Mount Bromo, for example sunset tour Bromo and Milky Way Bromo.
Read: Mount Bromo Milky Way Tour – Best Trip to Mount Bromo Milky Way Camping
Mount Bromo Day Tour For Sunset View
Mount Bromo day tour for sunset, is one of the options for those who want to go to Bromo without having to leave early in the morning. Only with a duration of 12 hours you can visit the beauty of Mount Bromo without stay overnight. Bromopackagetour.com offers convenience for those of you who are going on a mount bromo a day tour with travel details as follows.
Read : Mount Bromo Midnight Tour
Itinerary Mount Bromo Day Tour (Sunset View)
11:00 am We will pick you up at a hotel,airport,train station or other public place in the city of Surabaya. Then depart for Cemoro Lawang at the foot of Mount Bromo, the trip lasts approximately 3 hours depending on traffic conditions.
02:00 pm We will arrive at Cemoro Lawang (Mt.Bromo area), prepare a 4WD (Hardtop) vehicle for you toward interesting spots in Bromo, among others, trekking to Bromo Crater, The Wishpering Sands, Poten Temple at the Central Sea of ​​the Seas and Penanjakan view points while waiting for sunset.
05:30 pm Sunset in Bromo from Penanjakan view point, here we can also enjoy the beauty of the landscape of the Bromo Tengger Semeru National Park which is so fascinating.
07:00 pm Return to Cemoro Lawang village
08:00 pm Travel back to Surabaya, approximately 3.5 hours
11:00 pm Finish the tour in Surabaya.
Note : If you want to add a tour to Madakaripura Waterfall, then you have to leave 2-3 hours early.
Mount Bromo Sunset Tour Package

Tour Incudes :
– Transport Private In Out (gazoline + driver)
– Entrance fee Bromo
– Jeep 4WD Tour Bromo
– Mineral Water
The price for Mount Bromo Sunset Tour please Contact Us