Climbs Mount Bromo and Semeru Trekking Tour 3 Days 2 Nights.The plan of climbing and explorers of the highest and famous volcano in East Java is Mt.Bromo and Peak of Semeru Mountain duration trip about 3 days 2 night. This trip by https://bromopackagetour.com/ starts from and ends in Surabaya Airport,train station or hotel.
Mount Bromo Semeru Trekking Tour take 3 days 2 night fully organised "private trip". Mount Semeru also known as Mahameru ("Great Mountain"), is one of Indonesia's most active volcanoes. What stands out most about this mountain is the fact that it erupts periodically (and very reliably so). Every 20 min or so, the volcano belches out a huge cloud of steam and smoke, sometimes interspersed with ash and stones. Enjoy the Mount Bromo sunrise with it tengger caldera of sea sands and completed your trip at Ijen plateau famous for it's crater lake is the most acidic lake on earth.
Mount Bromo Semeru Trekking Tour 3 Days 2 Nights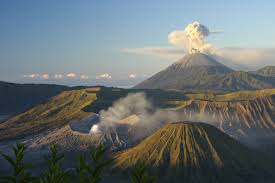 You will encounter steep ascents and descents on a fairly good system of tracks whilst on the trek. A good level of fitness is required. All your camping gear is supplied but if you want to take your own light weight sleeping bag or sleeping mat that's fine. As the trip run in private you can always discuss with your guide about your level of fitnes or anything that make you confy during the trekk.
Itinerary Climbs Mt.Bromo Semeru Summit 3 Days 2 Nights
Day 1 = Pick Up Point At Surabaya Bromo Tour
– pick up Surabaya by our private car
– driving in about 4 hours to reach Cemara Lawang Village (Bromo area)
– check in hotel,free program
Day 2 = Bromo Tour Sunrise & Crater – Volcano Trekking (Ranu Pani – Ranu Kumbolo – Kalimati)
– wake up in early morning at 3am
– at 3.30-4am, the jeep 4wd will pick you up hotel
– then bring you to do Bromo Tour, through the sea of sand, we will visit :
1. Penanjakan Peak( this place is very popular as the highest point to catch sunrise)
2. Bromo Crater
– after Penanjakan Peak, we drive down through the sea of sand again and heading Bromo Crater
– reach the jeep parking area
– you may walk or ride the pony horse to reach the bottom of Mt Bromo
– then walking through the upstairs to reach the rim of Bromo Crater
– enjoy the Bromo Crater then back to jeep parking area
– then the jeep 4wd will leave Bromo sea of sand and bring you directly to arrive Ranu Pani Sub Village in about 1,5 hours
– accompanied by tour guide and porters, we are doing this trekking
Let me know you the time duration for trekking :
1. Ranu Pani to Ranu Kumbolo = 4 hours
2. Ranu Kumbolo to Kalimati = 4 hours
3. Kalimati (base camp) to Semeru Summit = 5-6 hours
– we reach Ranu Kumbolo at 12pm, having lunch here
– enjoy in short time here
– at 1pm, we start again trekking to Kalimati in about 4 hours
– arrive Kalimati (base camp) at 5pm
– making a tent here
– having dinner around at 7pm then short rest until at 10.30pm
– preparing trekking up to the Semeru Summit, we start at 11pm
Day 3 = Summit Semeru – Kalimati – Ranu Kumbolo – Ranu Pani – Transfer To Surabaya

– across the sandy and stony road, finally we arrive the summit at 5am
– enjoy at the Semeru Summit in about 30 minutes then trekking back Kalimati
– arrive back Kalimati at 8am, having breakfast here
– at 9am, we leave Kalimati then trekking back Ranu Kumbolo and then Ranu Pani
– we arrive Ranu Pani again around at 3pm
– then driving back Surabaya in about 6 hours
– arrive Surabaya around at 9pm
– our trekking program is finished here
The price for Mt.Bromo Semeru Trekking 3D/2N please Contact Us
Facility :
– private transport (incl : car, driver, petrol, parking and toll fees)
– jeep 4wd Bromo Tour
– jeep 4wd Bromo to Ranu Pani Sub Village
– 1 night hotel near to bromo
– mineral drinking water
– tour guide
– porter
– entrance fee Semeru and Bromo
– camping & cooking equipment
– meal during semeru trekking
– 1x breakfast at hotel bromo
Mount Bromo Semeru Climbing Tour 3 Days 2 Nights
What to bring :
warm jacket, head cover, good mask, good grip shoes, sock, glove, sunblock, any medicine, torch light, raincoat (just in case),medical check up notices by local doctor.