bromopackagetour.com – sites that provide Java Indonesia travel package services to Mount Bromo Semeru Tengger and surrounding areas with the main destination to Malang City, Mount Ijen, Banyuwangi, Bali, Semeru Volcano, Tumpak Sewu Waterfall and Madakaripura Waterfall, Sukamade Turtle Beach by pick-up and drop from Surabaya Airport, Station, Hotel or from Bali at low prices, facilities include private transportation, hotels, entrance tickets.
Mount Bromo Tour is one of the reliable Bromo Tour and Travel Organizers in Indonesia that will provide the best service for you to get a comfortable and enjoyable trip. With a professional team and experienced guides especially with the aim of climbing Mount Bromo Ijen Semeru Volcano in East Java and its surroundings, so we are very confident that we will provide satisfying services for your trips.
Mount Bromo Tour Package 2021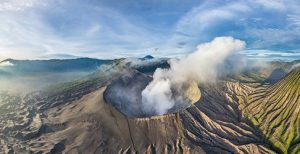 The purpose of our online service is to provide convenience for all tourists who come to Indonesia with the purpose of going to Mount Bromo and its surroundings. Great travel quality with competitive prices for Bromo Tour Package and other tour packages that have been pre-arranged in all deals of the mount bromo tour and other tourism objects such as Ijen Crater Blue Fire Tours, Surabaya City Tour, Banyuwangi Tours, Malang Tours,Semeru Tours etc. We are proud when you are satisfied and give a good impression to our company.
Mt. Bromo volcano in East Java Indonesia is the active cone inside the giant Tengger caldera, one of Indonesia's most scenic locations destination in East Java, famous for its sunrise views and the panorama over the caldera with Semeru volcano as the background.
Recommendations for trips to mount Bromo based on reviews from TripAdvisor for adventure in Bromo with jeep4WD or mount Bromo photography tour are as follows.
Our Services: Best Mount Bromo Indonesia Tours

Below are a few choice travel packages to Mount Bromo and the surrounding area which you can choose:
Mount Bromo Tour Midnight
Pick up around 11-12 a night in Surabaya / Malang or it could be in a location that has been determined and agreed upon. But the majority of the tour participants a shuttle from the airport/station/bus terminal or hotel, after the pick-up is complete and participants already met with our team, and our team will transfer the participants directly to Mount Bromo.
After participants arrived in the region of Mount Bromo, and the next by suttle Jeep 4WD which will immediately bring the participants to get to Penanjakan Mount Bromo to see the sunrise and Bromo crater.
Package tour bromo midnight a sightseeing trip to bromo without staying. Finished enjoying bromo sunrise + crater and then back to Surabaya. See Detail Itinerary Here Bromo Midnight Tour
Bromo Tour Package 2 Days 1 Night
Day 1. Pick Up Point – Mt Bromo Area
Mount Bromo Tour From Surabaya or Malang. Meeting point from Surabaya or Malang airport or station or hotel. After then our driver will transfer you to Bromo area. On Arrival in Bromo area,check-in hotel for overnight.
The rest of the day is free program at your own leisure and preparation to see the sunrise from the top of Mt. Bromo tomorrow morning.
Day 2. Mt.Penanjakan Sunrise – Bromo Crater – Transfer Out
The tour bromo sunrise started in early morning from hotel with a jeep 4WD crossing the sea-of-sand toward mt.pananjakan point 1, where you will see the coming up the sun of beautifully from the eastern of Mt. Tengger (If weather allowed).
After enjoying the lovely sunrise and views the sand sea bromo and other nearby mountains such as mt.batok and semeru summit then back down through the sea of sand bromo with jeep 4WD to get to the parking area.
From the parking area jeep in the sea of sand then walk (alternative by horse rental) to the stairs of Mount Bromo.
Arrived at stairs of Mount Bromo then climbing 250 stairs cases to reach the rim crater of Mt. Bromo. Finished enjoying here return to hotel for breakfast.
Next transfer back to the airport or train station or hotel of Surabaya or Malang. See Detail Itinerary Here Bromo Tour Package 2 Days 1 Night
Mount Bromo Madakaripura Waterfall Tour 2 Days 1 Night
Day 01 : Surabaya –  Madakaripura Waterfall – Hotel Near To Mount Bromo
Around 6am – 10am, Pick up with a private car from Surabaya, then go to the hotel in the area of Mount Bromo with a 3 hours duration.
1 pm – 3 pm, arrived at lumbang village stop and visit Madakaripura waterfall.
3 pm – 4 pm, After finish enjoying Madakaripura waterfall keep on drive to hotel in bromo,check in and then enjoying the atmosphere of Mount Bromo.
Day 02 : Mount  Bromo Sunrise – Bromo Crater – Surabaya
3 am, morning call for preparing the Bromo trip by Jeep 4WD3.30am, depart from hotel to Mount Pananjakan view point sunrise Bromo.
After arriving at Pananjakan (view point first), walk for 10 minutes to Location View Point is Penanjakan 1 Bromo to wait for the publication of sunrise / Bromo Sunrise, then went on to tour the vast  desert that is known as the Sand Whisper, with background behind  the beautiful, namely Mount Batok and Mount Semeru  (highest mountain at 3,676 meters above sea level Java province) to settle and finish.
After completion  enjoying beauty of Mount Bromo from the view point, back to the Jeep and  continued visitation to Bromo crater with stop in a sea of sand (the parking  lot) and walk for 30  minutes or to rent a horses for 15 minutes.
8 am, finish enjoy Bromo crater then back to the hotel for breakfast, bathing and transfer out  to Surabaya. See Detail Itinerary Here Bromo Madakaripura Tour Package 2 Days 1 Night
Mount Bromo Ijen Tour Package 3 Days 2 Nights
Day 01. Surabaya – Mt. Bromo
Pick you up from Surabaya airport or hotel or train station then meeting service with our staff and continue to drive directly to the Mount Bromo area in East Java.
It will take about 3-4 hours by private car. Upon your arrival in Mount Bromo, you will stay at similar hotel near to bromo with a superb view directly to Mt.Bromo.
Day 02. Mt.Bromo Hotel – Bromo Sunrise & Crater – Ijen Area
At 3.30 am the 4WD will bring you to the world's most famous view point at Mount pananjakan on the rim of the Tengger caldera to see sunrise with its young volcanic including Mount Bromo and an active Mount Semeru in the back ground is breathtaking the play light shadow with sunrise reach Mountain succession from the top to the bottom and the usual fog of the caldera.
Afterward the adventure be continued to an active Mount Bromo volcano on foot or by horse riding.About at 08:00, the 4 WD will bring you back to the hotel for breakfast, take shower, packing, loading bags, to the vehicle then transfer out to Banyuwangi regency where Ijen Crater/Kawah Ijen located.
We will drive from Mt. Bromo to Banyuwangi for about 4-5hours including stop on the way for having lunch at local restaurant.Upon arrival in Banyuwangi, You will stay overnight at similar hotel near to ijen. check-in and free program
Day 03. Ijen Trekking (Blue Fire) – Surabaya or Ferry Port To Bali
At 00:00 am we pick you up from your hotel in Banyuwangi then drive a short way ( paltuding ) to the start of the trail that lead up to the active beautiful crater of Kawah Ijen volcano ( 1,5hours walking ) with its famous blue acid lake ( actually the most acid in the world ) and the hot partly liquid sulphur deposit .
The dumorales are so hot that sulphur come out as green vapour. The vapour is collected by large pipe at the excite of which its condenses , forming red rivulets of liquid sulphur than freeze to solid deposit are carried to obtain huge block of pure sulphur with primitive , healthy devastating method and incredibly hard job .After observation time we leave Ijen plateau and drive down to Banyuwangi town then directly transfer you back to Surabaya or ferry port to Bali. See Detail Itinerary Here Surabaya Bromo Ijen Tour Package 3 Days 2 Night
Mount Bromo Tumpak Sewu Waterfall Tour 3 Days 2 Nights
Day 1 : Surabaya (Pick up) – Hotel In Bromo
Our staff will pick you in Surabaya city center (Airport, train station, or hotel) and then drive to mount bromo area for 3,5 hours .
Arrive at bromo hotel around Cemoro Lawang village near to Mount Bromo. You stay 1 night in the hotel and rest to prepared tour bromo early morning.
Day 2 : Mount Bromo Sunrise Tour – Homestay In Lumayang
02.00 am, we pick you up in the hotel and than drive you up by using private jeep 4WD without air-conditioned to the view point to see the famous beautiful sunrise for 10 – 20 minutes.
05.00 am enjoy the beauty of Mount Bromo Sunrise and others mountains like Mount Bromo Crater, Mount Batok, and Mount Semeru.06.00 am we will drive you up to Bromo crater by crossing the sea of sand.
We can ride a horse or take a walk to reach the Bromo crater.Back to the hotel to have breakfast, take a shower, and check out.Finally at 11.00 am we continue our trip to Lumajang for 3 hours and stay in the home stay 1 night.
Day 3 : Tumpak Sewu Waterfall – Drop To Surabaya
07.00 am we pick you up in the home stay and than go to the Tumpak Sewu Waterfall. Trekking down through small path and wooden stairs for 1,5 hours with our local guide.
Enjoy the scenery for 2 hours.Back to home stay or you can directly return to Surabaya Airport for 5 hours while having lunch along the way. See Detail Itinerary Here Bromo Tumpak Sewu Waterfall Tour Package 3 Days 2 Night
Semeru Volcano Trekking Tour 3 Days 2 Nights
Day 01 : Pick Up – Ranupane – Lake Kumbolo (Ranu Kumbolo)
From surabaya airport our staff will pick up and then transfer toward tumpang malang or cemara lawang in bromo area.
Arrive at tumpang malang or cemara lawang bromo suttle jeep 4WD direct to Ranupane.From ranupane start trekking to Lake kumbolo. It will take you about 3-4 hours to get there. Stay overnight at tent.
Day 02 : Lake Kumbolo – Kalimati (base camp)
Wake up in the morning and view sunrise and beautiful lake kumbolo. After finish enjoying here,breakfast and then hike through tussock savannah around 3 hours.
Rest at tent in kalimati base camp until midnight.
Day 03 : Trekking Semeru Summit – Ranupane – Transfer Out
At night from Kalimati base camp a path leads up through mountain forest to the treeline (about 2 hours). The final ascent, above the treeline, is a steep and somewhat strenuous walk over volcanic scree and sand, which will take you another 1 to 2 hours.
The top of mount sumeru is a rather big, flat area. The present-day crater is a bit further on, below the summit, to the south. From the top, you cannot look inside the crater. For your own safety, stay clear of the crater rim.
Enjoying at semeru summit,view sunrise,etc. Back to kalimati base camp,breakfast and then walk down back to ranupane village and transfer toward surabaya.  See Detail Itinerary Here Mount Semeru Trekking Tour 3 Days 2 Nights
Mount Bromo Ijen Semeru Indonesia Volcano Tour Price 2021
| Tour Package Option | Price Per Person (IDR) |
| --- | --- |
| Bromo One Day Tour (Midnight) | 700.000 |
| Bromo Tour 2D1N | 1.050.000 |
| Bromo Madakaripura Waterfall 2D1N | 1.200.000 |
| Bromo Ijen Blue Fire Tour 3D2N | 1.650.000 |
| Bromo Coban Sewu Waterfall 3D2N | 1.550.000 |
| Bromo Ijen Surabaya Tour 4D3N | 2.250.000 |
| Yogya To Bromo Tour 2D1N | 1.400.000 |
| Yogya Bromo Ijen Drop At Port To Bali 3D2N | 2.450.000 |
| Semeru Volcano Tour 3D2N | 2.950.000 |
| Bromo Semeru Trekking 4D3N | 4.300.000 |
| Bromo Ijen Semeru Tour 5D4N | 5.350.000 |
* Valid price for a groups 6 persons
How To Booking Bromo Ijen Semeru Volcano Tours
Learn each point of the tour package we offer. If you've already decided which tour package you chose, continue to step 2.
After deciding on the Program selected, contact us for details of package price and facilities
Once you have Quotes and agree with the price, booking confirmed and just wait for your tour schedule.
FAQ for Mount Semeru Bromo Ijen Tour Package

When is the best time to visit Mount Bromo Semeru Ijen?
The best time based on the weather in Indonesia is during the dry season between April and October. During the November to March monsoon season, Mount Bromo and Ijen are still open to visitors unless there is a specific reason that lanes must be closed.
While Semeru Mountain is always closed every rainy season (January – April).
What is the temperature in these mountains?
Normal temperature in the morning around 5-15 degrees Celsius. But sometimes the temperature can reach 0 degrees Celsius during the peak dry season (July – August).
What is the price for this package?
Tour package fees are calculated based on the number of participants and your travel period. So do not hesitate to contact us.
What facilities do you get?
The facilities we offer are very complete, for example, private transportation, shuttle /lodging/hotel for rest, the cost of entrance tickets, 4WD Jeep rental in Bromo, and so on
Where is the departure location of this tour package?
The starting location of this trip is usually from hotels /apartments/station houses/airports in the city area of ​​Surabaya / Malang. But you can determine your own location of departure, for example from Bali, Yogyakarta, Probolinggo. We are very flexible about that.
Do we also provide join tours or groups?
Yes, we provide both the packages. But for join tours, there is only a Bromo Ijen tour from Surabaya / Malang and Mount Bromo Tour Midnight.