Bromo Tour Package is a Mount Bromo travel program with tour package services from local travel agents with complete accommodation facilities. Need a vacation to Mount Bromo at a low price and easy process, join and booking through BromoPackageTour.com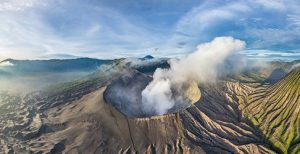 Mount Bromo is a major tourist attraction owned by East Java Indonesia. Bromo is located in the Bromo Tengger Semeru National Park area. The form of Mount Bromo links between the valley and the canyon with the caldera, or sea of ​​sand covering about 10 square kilometers at its feet.
As an active volcano, Bromo is worth visiting because of the beauty of the sunrise, sunset and milky way at night. To be able to enjoy the natural beauty of Mount Bromo, you have to drive through challenging land routes.
Where is Bromo located?
The exact location of Mount Bromo in the Province of East Java, Indonesia. Located in 4 Regency government areas because Mount Bromo is located on the border of the Regency, namely Probolinggo Regency, Pasuruan Regency, Malang Regency, and Lumajang Regency.
What is unique from the location of Mount Bromo is that it is located in the border of 4 districts in East Java so that it can be accessed through the paths of the 4 regions of the district. However, the best route is through the Probolinggo route, easy access, and many available accommodations.
How to get to Mt. Bromo?
To reach Mount Bromo, you can fly to Juanda International Airport in Surabaya. There are direct flights to Surabaya from Singapore, Kuala Lumpur, Hong Kong, Jakarta, and Bali. From the airport, continue your trip to Mount Bromo by booking a travel agent, or driving. If interested by road you can go to the train station/bus terminal in Surabaya or Malang or Probolinggo (especially tourists who live in Jakarta, Bandung, Yogyakarta or other areas in Java).
How to get Bromo from Surabaya
From Surabaya to Bromo you will need between 3 and 4 hours by road. Therefore, the best time to get Bromo departed from Surabaya is around 9 am – 3 pm. Then you can choose to spend the night at a hotel/homestay close to Bromo.
From Surabaya to Bromo you will need between 3 and 4 hours by road. Therefore, the best time to get Bromo departed from Surabaya is around 9 am – 3 pm. Then you can choose to spend the night at a hotel/homestay close to Bromo.
How to get to Bromo from Malang
How to go to Bromo from Malang is not much different from the way to Bromo from Surabaya if you want to spend the night at a hotel/homestay near Bromo. The driving distance from Malang to Bromo is 3-4 hours. Why not much different, because the route to be taken is to Bromo via Probolinggo. Probolinggo is a path to Mount Bromo where there are many 1,2,3,4 star hotel accommodations, homestays, villas, etc. And the access road via Probolinggo is the easiest.
How to get to Bromo from Yogyakarta
Yogyakarta is an area in Java where there are many foreign tourists. To go to Bromo from Yogyakarta, access that you can choose is to come to Bromo by flying to Malang or Surabaya or by road to the station/terminal in Malang or Surabaya or Probolinggo.
How to get to Bromo from Bali
Bali is an international class tourist destination. Most foreign tourists who come to Indonesia will go on holiday to Bali then to Ijen – Bromo, and Yogyakarta or vice versa. For those of you in Bali, to get Bromo is to fly to the airport of Surabaya or Malang or Banyuwangi and continue driving to Probolinggo – Cemara Lawang Ngadisari – Mt.Bromo.
Where to stay in Bromo?
In Bromo many choices of hotels that can be used as a place to stay. You can choose the location of the hotel with a direct view overlooking Bromo or the best hotel in Cemara Lawang Village Mt. Bromo. Below is a list of hotels in Bromo.
Hotel Near Bromo Via Probolinggo (Directly facing Mt.Bromo)
Cafe Lava Hotel
The location is very close to the entrance of the national park. With a relatively cheap price, this inn is suitable for those of you who want to save a little. Hotel address is in the village of Ngadisari Cemara Lawang Probolinggo.
Cemara Indah Hotel
This inn has a direct view of Mount Bromo and the bathroom is equipped with hot water and wifi and restaurant facilities. The right world for those of you who want to find hotel with a view facing directly on Bromo. Address in the village of Ngadisari Cemoro Lawang Probolinggo.
Bromo Permai Hotel
The location is quite strategic because it is located close to the Mount Bromo area. To see Mount Bromo, just walk to the exit point of the hotel. Prices are relatively cheap and there are many choices of room types. Recommended for lodging close to Mount Bromo with the address is in the village of Ngadisari Cemara Lawang Probolinggo.
Lava View Lodge
It is the most classy hotel and has the best view, the location which is equivalent to the Cemara Indah Hotel has many advantages compared to other hotels near Mount Bromo. Even if viewed from the outside like a Villa, the Lava View Lodge hotel is the best hotel in the Mount Bromo National Park area, especially one that has a view of the hotel directly to Bromo and the rooms are clean and equipped with hot water facilities that will spoil you. The address is located at Cemara Lawang Probolinggo.
Best Hotels In Bromo
Java Banana Bromo (Jiwa Jawa Resort)
Java Banana Bromo or now Jiwa Jawa Resort Bromo is the only hotel in the Bromo area with amazing modern architecture, minimalist interior with tropical nuances made of the best wood, the concept of the building is environmentally friendly. Every detail of the wake room is designed in harmony with the beautiful natural landscape of the Bromo Mountains. 5 star hotel in Bromo with full address Jl. Raya Bromo, Wonotoro, Sukapura Probolinggo.
Bromo Teracce
Hotel Bromo Teracce is surrounded by hills and refreshing plantations giving a relaxed atmosphere. Decorated with brick walls, the green garden makes for a calm atmosphere. The design is in harmony with the surrounding natural landscape, each design with painted white brick walls, wooden beds and modern conveniences featuring a private terrace. The address of this hotel is on Jl. Raya Bromo, Sapikerep, Sukapura, Probolinggo, East Java.
Other Hotel Options in Bromo
SM Bromo
SM Bromo hotel in the Bromo area which has better buildings than other similar hotels. Even though the view does not face directly to Bromo but a clean place and nice rooms are worthy of consideration as residences while in Bromo. Wonokerto Sukapura, Probolinggo
Java Go Pagupon Bromo
Java Go Pagupon Hotel offers a unique aristek spatial concept in the middle of the open air. Hotel address at Jalan Raya Bromo, Wonotoro, Sukapura, Probolinggo
Whiz Capsule Hotel Grand Bromo
Whiz Capsule Hotel Grand Bromo is the hotel that has the most unique design in Bromo. Want to feel the sensation of staying in a capsule? You need to try staying at this hotel. This capsule is 120 centimeters wide, and its length is approximately 200 centimeters. With that area, designed for comfort when resting. One capsule, one person. Inside the capsule, tourists can enjoy all the existing facilities, from air conditioning, radio, TV, and others. This hotel address Jl. Raya Bromo, Watulumpang, Sukapura, Probolinggo, East Java.
And there are many more hotels in Bromo via Probolinggo, for example Sukapura Permai, Nadia Hotel, Yoschi hotel, Sion View Hotel, etc.
Hotel In Bromo Via Pasuruan
Plataran Hotel
Plataran Hotel Bromo Located in the Bromo highlands, Plataran Bromo offers a sublime view of the beauty of the rural agricultural estates that are woven into the surrounding hills. Strategically located at the gate of Bromo Tengger Semeru National Park via Pasuruan. Alamt hotel in Ngadiwono, Tosari, Pasuruan.
Bromo Cottage
Bromo cottage is a five-star hotel that first stood in the Bromo area via Pasuruan. Founded in 1991 on a wooded and secluded hillside with views of agricultural hills, the hotel is quiet with a distance of 1.8 km from Wonokitri village and 7 km from the peak of the Bromo climb. Complete room service facilities make one of the residential recommendations for Bromo. This hotel is located in the Village of Tosari, Tlogosari, Tosari, Pasuruan, East Java.
What we do in Bromo?
Jeep ride experience up to the mountain (viewpoint sunrise).
A walk to the sunrise viewpoint of Mount Bromo.
Witness the sunrise on Mount Bromo.
Coffee Break after the sunrise experience.
Horse Ride in the Sea of Sand.
Up close with Bromo Crater.
How Much Does Bromo Tour Cost?
| Participant | Price Per Person (IDR) |
| --- | --- |
| 1 | IDR 3.250,000/pax |
| 2 | IDR 1,900,000/pax |
| 3 | IDR 1,650,000/pax |
| 4 | IDR 1,350,000/pax |
| 5 | IDR 1,150,000/pax |
| 6 | IDR 1,000,000/pax |
The above price is a Bromo package cost with a duration of 2 days 1 night. There are many other options for Mount Bromo tour that can be your reference as below.
Facility:
Driver or Guide (English Speaking)
Tour as per itinerary
Transportation by air-conditioned vehicle
Accommodation at choices hotels near to bromo include breakfast.
Bromo Semeru Tengger National Park Entrance Fee
Schedule Mount Bromo Trip
Day 1: Surabaya or Malang + Mt Bromo Tour
Upon arrival at airport,stations or bus terminal, you will be met by our representative at Surabaya or Malang and proceed to Cemara Lawang for overnight.
Day 2: Mount Bromo Tour Sunrise + Crater Tour + Surabaya or Malang
Start the day to Mount Bromo at 3.00 a.m to witness the sunrise from the pananjakan view point with 4WD Jeep. Finished enjoying the sunrise continues to the parking area sea of sand with 4WD jeep to proceed visit bromo crater.
From here,you can either hike or pay on your own for a pony ride across the Sea of Sand and up the peak of Mount Bromo. Enjoy and soak in the spectacular vista surrounding Mount Bromo, Thereafter we return to the hotel for breakfast and re-pack for transfer to airport for your flight back home or other place in the Surabaya or Malang area. Tour ended.
How To Booking tour to Mt.Bromo?
Interested in joining Bromo tours and visiting the most famous tourist sites in East Java? Fill in the data below to Booking Your Adventure.
Name.
Phone/Address.
Tour packages selected.
Total persons will join with you.
Date (arrival and departure) of your planning.
Your flight arrival and flight departure.
Send email to bromomalangtour@yahoo.com
What to Brings ?
Warm jacket, head cover, good mask (eg. N95), good-grip shoes. Temperatures range from 8 – 22 degrees Celcius in the mountains.
Socks and gloves (can be purchased at the mountains; subject to availability)
Sunblock (if needed), torch light and raincoat. (just in case)
Bromo Tour Package & surroundings