Ranu Kumbolo Camping Tour Package: Tour Packages Adventure tours are increasingly in demand lately, for example, climbing and camping tours. Many like challenges and want to conquer nature. East Java, Indonesia, offers many natural adventure places that are presented in various camping and climbing tour packages. If you want to try one of the areas in East Java that is suitable for your adventure, Mount Bromo Semeru Tengger National Park includes Mount Bromo, Ranu Kumbolo Lake, and the highest Semeru Volcano on the Indonesian island of Java.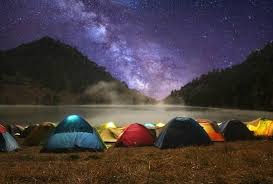 Also Read Trekking and Camping Tour : Hike to Mount Semeru
Camping Tour at Ranu Kumbolo Lake for Milky Way
Ranu Kumbolo Lake is located at the foot of Mount Semeru in line with route the climb to the top of the Semeru Mahameru volcano. This lake is located at an altitude of 2,900 meters above sea level which offers natural charm with the beauty of the night which is no less beautiful than the Milky Way on Mount Bromo.
At night on the lake Ranu Kumbolo the sky view with sparkling stars is usually called the Milky Way. The natural beauty of the night at the Gumbolo Lake tour is much hunted by visitors, especially those who are photography hobbies. Not only photographers who explore this place but those who like hiking and camping because to get to the lake, climbing is needed for 4-5 hours before camping.
Ranu Kumbolo Tour 2 Days Itinerary :
Itinerary Ranu Kumbolo Trekking and Camping Tour Package 2 Days 1 Night from Malang Surabaya
Day 1 : Surabaya / Malang – Ranu Pane – Ranu Kumbolo Trekking
On the first day you will be picked up by our staff using a private car in the designated location that is in Surabaya or from Malang, then you will be invited directly to the village Tumpang, and headed to the area Ranu Pani.
After arriving in this Ranu Pani area, you will begin to walk about 4 hours to the lake area Kumbolo. Upon arrival in the lake area, the team porter will arrange tents and various other camping equipment. Thus you can enjoy the view of the lake and also enjoy the beauty of kumbolo without being busy with the installation of tents.
After the tent installation is completed, there will be some activities to be held and certainly related to the camping event. At night you will receive dinner. After that free program, until finally time to rest.
Day 2 : Ranu Kumbolo Camping Tour For Milky Way – Surabaya or Malang
At midnight, wake up and to enjoy the beauty of Milky way, you can see the milky way from your tent. Then in the morning you will be able to see the sunrise, and also explore the beauty of Ranu Kumbolo. At 10 am, After having lunch, you will travel back to Ranu Pani. From this place you will be delivered to the pick up place. Ranu Kumbolo Milky Way Tour Package that we present finish.
Ranu Kumbolo Lake Camping and Trekking Tour Price 2D1N
Please join us and find out the price of Ranu Kumbolo Camping and Trekking for the Milky Way Tour Package. The price we will offer has the following facilities:
The price we will offer has the following facilities:
– Private transport standard tourist by full air conditioned (Start -Finish).
– Tent, sleeping bag, mat, etc.
– 1 night camping at Ranu Kumbolo
– Entrance fee to Kumbolo
– Eating supplies during the tour camping (Lunch, dinner and Breakfast)
– Mineral water during trekking tour
– Trekking guide and Porter in Ranu Gumbolo
– First aid
– Medical Check Up from Doctor
Price is not included
– Travel insurance
– Individual needs
The price that we will offer is that you can enjoy the beauty of Ranu Kumbolo easily; You can order hiking and camping tour packages through a travel agent with complete facilities and convenience in traveling. Contact the bromopackagetour.com website for information on how to order camping and hiking tour packages on Ranu Kumbolo Lake for Milky Way photography at affordable prices.