Ijen Crater Tour Package. Mount Ijen Located on the eastern tip of the island of Java, one of the volcanoes as a must-visit destination in East Java. Take a trip to Mount Ijen from Bali Surabaya Malang and get ready to start climbing at night for the blue fire of Ijen. Don't forget to capture this spectacular view with your camera!
Visiting the Ijen volcano can begin and end from Surabaya, Malang and Banyuwangi Ferry port to Bali with a duration of trip for 2 days 1 night. Mount Ijen crater located in Banyuwangi has the natural beauty of the largest sulfur crater lake in Java and the natural phenomenon of burning sulfur which is commonly called the Blue Fire Ijen.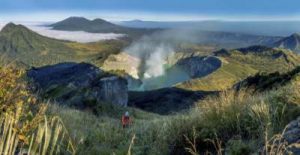 Ijen Tour Package From Surabaya or Malang
If you want to visit Ijen, we suggest leaving from Surabaya or Malang with a long trips for 2 days 1 night you can enjoy the natural beauty of Ijen's blue fire and then return to Surabaya, Malang or directly drop off to the Ketapang ferry port Banyuwangi to Bali.
Mount Ijen is clearly one of the most famous active volcanoes in Indonesia besides Bromo. Departing to Ijen from Surabaya or Malang will be in the same direction as Mount Bromo Tour, so it is not surprising that many of the tourists who will go to Ijen at the same time stop to visit Mount Bromo. Distance between the two volcanoes is around 4-5 hours driving.
Also read: Bromo Ijen Tour from Surabaya
Ijen Crater offers a view of blue fire that you can only see in two places in the world. The blue flame at Ijen arises as a result of natural phenomena when sulfur gas comes out of the vents and fills with oxygen so that combustion occurs and this process can only be seen when the sky is still dark or before sunrise. For that reason, every tourist who will go to Ijen, including ijen blue fire tour is required to climb at night around 1 am – 3 am.
2 Days 1 Night Mount Ijen Crater Tour Itinerary

Day 01 Pick Up Point – Hotel Near To Mount Ijen
Pick up at Surabaya or Malang and direct us shuttle to the location hotels near Mount Ijen with the long journey from Surabaya or Malang 7 hours, or 1 hour from banyuwangi.

Check in hotel and free program
Day 02 Ijen Trekking at Night for Blue Flame – Transfer Out
At 12 midnight the participants wake up, preparations to the post Paltuding (post ascent to the summit of Mount Ijen), duration trip from hotel to paltuding post around 45 minutes.

Arrived at Paltuding straight away start climbing for 2 hours as far as 3 km to the top of Ijen.

Enjoying the beauty of ijen blue fire, sunrise Ijen, Ijen crater lakes and the activities of the sulfur miners.

Back to Paltuding and we transfer heading your final destination back to Surabaya or Malang or sKetapang ferry port to bali island

program finished
Ijen Crater Tour Price 2D1N
| Participant | Price Per Person (IDR) |
| --- | --- |
| 1 | IDR 3.200,000/pax |
| 2 | IDR 1,850,000/pax |
| 3 | IDR 1,600,000/pax |
| 4 | IDR 1,300,000/pax |
| 5 | IDR 1,100,000/pax |
| 6 | IDR 950,000/pax |
Tour incude :
– Transport Private In and Out (gazoline + driver)
– Accommodation 1 Night Hotel in Ijen
– Entrance fee Ijen
– Local Guide Ijen
– Gas Mask Rent
How to Get to Mount Ijen
Most tourists who will go to Ijen start from Yogyakarta or directly from various countries in the world. If you are from Yogya you can take the train to Surabaya Station Gubeng or Pasar Turi or Malang Station Kota Lama / Baru . Take a plane to Juanda Airport Surabaya or Abdul Rahman Saleh Airport Malang. While those coming from their respective countries can go directly to Surabaya Juanda International Airport. After that you can book a local travel agent to ijen tour from Surabaya or Malang.
Important !! Tips for Climbing Mount Ijen

To go to Ijen with the aim of seeing the blue fire, you must try to reach Paltuding (the place to start climbing) before 1 am.
Gas masks, must use it because the smell of sulfur gas is quite strong.
Local guide. you need help because you don't know hiking trail to the top of Mount Ijen. you should use the services of a local guide so that you don't get lost or can avoid dangerous paths. But when the season is crowded, when you climb can follow others to reach its peak, so you are not required to hire a local guide.
Want to climb but not strong, Rent a Trolley ! Local residents provide a trolley service for tourists who cannot walk but want to see the beauty of the blue fire and the ijen crater. Trolley towing service costs around Rp. 600,000 to 800,000 (2 directions up and down) depending on the peak season. Visitors are asked to rent one-way costs Rp. 200,000 to 400,000.
Ijen Entrance Fee
Local Tourist
– Weekdays IDR 10,000
– Weekends IDR 15,000
Foreign Tourist
– Weekdays IDR 100,000
– Weekends IDR 150,000
What are you wearing or carried to the Ijen crater?
Hiking shoes – sand-based tracks. …
Jackets – because they are cold (and can be very windy).
Headlight/torch – You will need it when start trekking and down the crater.
Bring extra clothes (and socks) – if you sweat a lot.
small backpack – that won't get in your way during the hike.
How long does it take to climb Mount Ijen?
Trek to Ijen Crater will take around 1.5 – 2 hours walking.