Mount Bromo Tour From Probolinggo is a day sunrise tour with a departure from Probolinggo for 1 night. You can set a pickup location from the train station or hotel in Probolinggo. Mount Bromo start Probolinggo can be reached in only 1-hour driving. This tour is quite recommended for tourists from Yogyakarta to Bromo by train.
.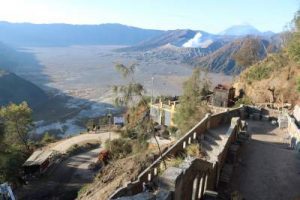 Mount Bromo Tour From Probolinggo
Bromo sunrise tour is the most favorite main destination that invites many tourists to come to Bromo. You will be adventuring and going around Mount Bromo with Jeep which is the only type of vehicle that must be used while exploring around Bromo. To take a package for a tour to Mount Bromo from Proboliggo there are several options for you. It can be started from Probolinggo Train Station, Bus Terminal, Cruise Ship, Hotel or Homestay in Probolinggo City.
Mount Bromo Tourism is a popular tourist spot in East Java's Probolinggo Regency. Mount Bromo is one of the best volcanic attractions that is the center of tourist destinations from various parts of the world when it comes to East Java in Indonesia. There are many interesting spots on this mountain that can be explored by visitors in addition to seeing the beauty of the sunrise from the Pananjakan hill and climbing Mount Bromo to the crater. Please see the following itinerary:
Itinerary Mount Bromo Sunrise from Probolinggo
Start to pick you up from hotel/ hostel/ homestay from Probolinggo At 01.30 midnight
Continuing the journey to Sukapura Village
Use Jeep transportation to Penanjakan 1 around 1 hour
After Arrive at the top of the Mt penanjakan, wait for the sunrise
Enjoy The sun rises around 05:15 am, and you can enjoy the very beautiful scenery.
After sunrise, back to Jeep then drive to the sea of Bromo sand.
On arrival at the Jeep parking area on the sand sea, continue the trek to Mount Bromo to see of the crater.
You can be reached Bromo Crater on foot or by horse riding, which is widely offered in the area.
Before arriving at the rim of the crater of Mount Bromo you are treated to a view of Mount Batok or Pura Poten which is a place of worship of the Tengger tribe which is the native of Mount Bromo.
After descending from the crater lips of Mount Bromo and satisfied to capture your moment in Bromo, you are escorted back to Sukapura parking area by Jeep
Upon arrival at the Sukapura village parking area transfer to the car originally, and continued the journey back to Probolinggo
In the middle of the trip, you can stop by the breakfast at local resto on your way back to Probolinggo
Arriving at the Probolinggo, Mount Bromo tour midnight is ended
The price of Probolinggo to Mount Bromo

| Participant | Price Per Person (IDR) |
| --- | --- |
| 1 | IDR 1.200,000/pax |
| 2 | IDR 1,100,000/pax |
| 3 | IDR 1,000,000/pax |
| 4 | IDR 900,000/pax |
| 5 | IDR 8000,000/pax |
| 6 | IDR 700,000/pax |
Price Includes :
Private Car During Trip to Bromo from/Out Probolinggo
Cost for parking,
1 bottle mineral water per person
Rent a Jeep Bromo Tour
Driver or English Tour Guide (optional)
Entrance fees to Mount Bromo
What about Mount Bromo?
Mount Bromo is an active volcano and part of Tengger Massif, in East Java, Indonesia. At 7,641 feet, Bromo is not the highest peak in the range, but most famous of all. The massive area is one of the most visited tourist attractions in Probolinggo – East Java – Indonesia.
Also Read :
Attention Tour to Mount Bromo?
The minimum age to participate in this tour is 3-7 years and the maximum age is 65 years. Minimum height of 1.25m and maximum weight of 80kg applies. Horses in Bromo are used as transportation and hence are led by their owners – this is not a horse riding excursion. Mt. Bromo is a volcano and if it shows volcanic activity, the itinerary can change according to local conditions. To make your trip to Bromo as comfortable as possible, please wear comfortable flat-soled shoes, clothing that suits the weather conditions.
How to Book Mount Bromo From Probolinggo

Whatsapp : +6281252370780
E-mail : bromomalangtour [@] yahoo.com
Thank you for reading our information regarding Bromo Tour Package Price from Probolinggo. This offer also applies to cruise ship passengers docked at Probolinggo Harbor for a day trip to Bromo.