With our Yogyakarta Bromo Ijen Tour 5D4N, you may enjoy the greatest of Java's natural treasures. You will discover Yogyakarta's rich cultural legacy, see magnificent temples, and take in the beautiful majesty of Mount Bromo and Ijen Crater on this 5-day, 4-night tour.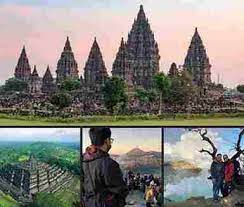 A wonderful fusion of natural beauty and cultural discovery is provided by the Yogyakarta Bromo Ijen Tour. This 5-day adventure will leave you with priceless memories, from the historical landmarks and energetic streets of Yogyakarta to the breathtaking views of Mount Bromo and Ijen Crater. Experience the culture of the area, take in the magnificent sunrises, and be amazed by the unusual volcanic events. Explore Java's hidden treasures to produce amazing experiences.
Yogyakarta Bromo Ijen Tour Package 5 Days 4 Nights
Prepare yourself for Yogyakarta Bromo Ijen Tour Packages 5 Days that will amaze your senses and make you appreciate the natural beauty and rich cultural heritage of Indonesia even more with tour operator https://bromopackagetour.com/
Also read : Bromo Ijen from Yogyakarta 3 Days 2 Nights
Day 1: Arrival in Yogyakarta
Upon your arrival in Yogyakarta, you will be warmly greeted by our team and transferred to the hotel. Take some time to relax and immerse yourself in the vibrant atmosphere of this cultural city.
Day 2: Yogyakarta City Tour – Borobudur Temple
Begin your tour. Breakfast in the hotel and head for Borobudur, 42 kilometers to the northwest of Yogyakarta. a place that is a part of the UNESCO World Heritage List. The biggest Buddhist monument is from the eighth century. The final seven terraces depict the stages from the material world to Nirvana. Reliefs showing the Buddha's conception, enlightenment, and demise. Visit Pawon and Mendut tempe as well, which are nearby and are said to have been constructed parallel to Borobudur.
Continues a fascinating city tour of Yogyakarta. Visit the Kraton, the Sultan's Palace, and get a glimpse of Javanese royalty and traditions. Explore the Taman Sari Water Castle, a hidden gem of beauty and tranquility. Continue your journey to Malioboro Street, where you can indulge in shopping and savor local street food.
Day 3: Yogyakarta – Prambanan Temple to Mount Bromo
After breakfast and check out of the hotel, head to discover the splendor of Prambanan Temple, an architectural masterpiece dedicated to Hindu gods. Marvel at the intricate carvings and dive into a rich history and mythology.
Embark on a scenic long drive from Yogyakarta to Mount Bromo, taking in the picturesque landscapes of Java's countryside. Arrive at your hotel near Mount Bromo and check-in. Enjoy the rest of the day at your leisure, preparing for the next day's adventure.
Day 4: Mount Bromo Sunrise – Bromo Crater – Ijen
Start your day before dawn to witness the magic sunrise over Mount Bromo. Hop on a 4×4 jeep and walk to the Penanjakan viewpoint, where the sunrise and panoramic views will take your breath away. After sunrise, the journey continues towards the Bromo sand sea.
Walking or rent a horse to reach the top of Mount Bromo. Feel the real beauty of Bromo Crater. Stand on the edge and feel the power of an active volcano as you gaze into its depths. After exploring Mount Bromo, return to the hotel for breakfast and check out. continue your journey to Hotel Ijen. Check in and prepare at midnight to drive to the Paltuding post to start climbing Ijen.
Day 5: Ijen Crater – Blue Fire Phenomenon – Departure
Get ready for early morning at 00.00 a trip to Ijen Crater. Arrive at the climbing post / paltuding then accompanied by a local guide start the climb. The hike takes about 1.5 – 2 hours depending on how fast you walk.
Witness the mesmerizing Blue Fire phenomenon, a rare occurrence caused by the burning of sulfur gas. As darkness surrounds you, blue flames dance and create an otherworldly atmosphere. At dawn, marvel at the turquoise acid lake within the crater, a surreal sight framed by sheer cliffs. Take a moment to interact with the hard working sulfur miners who tirelessly extract sulfur from the crater. Their resilience and dedication is admirable. After exploring the crater, return to basecamp and get ready for us to take you back to Surabaya or get off at the ferry port to Bali. And the tour ends.
5D4N Yogyakarta Bromo Ijen Tour Package Price
| Participant | Price Per Person (IDR) |
| --- | --- |
| 2 persons | IDR 6.500,000/person |
| 3 persons | IDR 5.370,000/person |
| 4 persons | IDR 4.770,000/person |
| 5 persons | IDR 4.400,000/person |
Tour Includes :
Private Transport for 5D4N (Full AC)
Private Jeep 4wd (Tour Mt.Bromo Sunrise)
Hotel + Accomodation for 4 Nights
All Entrance Fee (Yogyakarta, Bromo and Ijen National Park)
Driver (speak Engish), Parking,Fuel, Toll fee, Mineral water
Tour Excludes :
Lunch,Dinner
Travel insurance
Personal needs
Tipping