You are in Malang have some time to spare and looking for stunning views and unspoiled natural wonders? Bromo Ijen Tour from Malang should be your only option. Interesting investigations of Mount Bromo and the spectacular Ijen Crater are included in this thrilling journey. Get ready to take in the beauty of nature as you stroll through fantastic landscapes and see stunning sunrises. To make your trip unforgettable, we will guide you through the highlights of the Mount Bromo and Ijen crater tour departing from Malang city.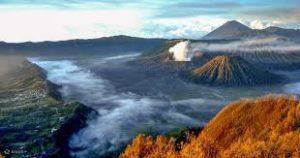 A popular tour that takes tourists to two famous volcanoes in East Java, Indonesia, is the Bromo Ijen Tour. For nature lovers and adrenaline seekers alike, this action-packed outing offers a rare combination of natural beauty and cultural richness, making it a must-visit location. In this article, we will provide travel guides and offers for Bromo Ijen tour packages from Malang.
Bromo Ijen Tour from Malang
Embark on a breathtaking adventure with our Bromo Ijen Tour from Malang. Witness the stunning sunrise over Mount Bromo, hike through the mesmerizing blue flames of Ijen crater and immerse yourself in the beauty of East Java's natural wonders. Book your tour today and experience the ultimate getaway.
Location and Background
Bromo Ijen Tour starts from Malang, a charming city nestled between mountains and rice fields. Located in East Java, Malang serves as the gateway to the Bromo Tengger Semeru National Park, which encompasses Mount Bromo and the surrounding area. From Malang, you'll embark on a scenic drive that takes you to the heart of this volcanic wonderland.
Natural Attractions
Bromo Ijen Tour offers a plethora of natural attractions that will leave you awe-inspired. Mount Bromo, an active volcano, steals the show with its otherworldly beauty. The sunrise at the Penanjakan Viewpoint is a sight to behold, as the golden rays of the sun paint the sky in vibrant hues. The Bromo Crater, with its smoking caldera and ethereal surroundings, is a must-visit spot. Additionally, the Whispering Sands and the vast Savannah provide a surreal landscape that will transport you to another realm.
Planning Your Malang Bromo Ijen Tour
To ensure a smooth and enjoyable Bromo Ijen Tour, proper planning is essential. Consider the following factors when organizing your trip:
Best Time to Visit
The best time to embark on a Bromo Ijen Tour from Malang is during the dry season, which typically falls between April and October. During this period, you can expect clear skies and favorable weather conditions, allowing for better visibility and more enjoyable outdoor activities.
Duration and Itinerary
The duration of the Bromo Ijen Tour lasts around three days and 2 nights, allowing you to fully immerse yourself in the beauty of this natural wonder. We recommend planning your itinerary in advance, making sure you allocate enough time to thoroughly explore each destination.
Day 1: Malang – Bromo Hotel
07:00 AM: Pick up in Malang and depart for Mount Bromo.
10:00 AM: Arrive at Cemoro Lawang, the village near Mount Bromo.
Hotel ckeck in and take a rest, prepare tomorrow morning Mount Bromo Sunrise Tour
Day 2 : Mount Bromo Tour – Ijen Hotel
03:30 AM: Start the jeep ride to Penanjakan viewpoint to witness the sunrise over Mount Bromo and its stunning surroundings.
06:00 AM: Descend from Penanjakan viewpoint and head to the Sea of Sand.
06:30 AM: Begin a short hike or horseback ride to the crater of Mount Bromo.
08:00 AM: Return to the jeep and proceed to the hotel for breakfast and check-out.
10:30 AM: Depart from Mount Bromo and head towards Bondowoso, the gateway to Mount Ijen.
04:00 PM: Arrive in Bondowoso and check-in at the hotel. Rest and relax.
Day 3: Ijen Blue Fire Tour – Malang
12:00 AM: Wake up and have a quick breakfast at the hotel.
12:30 AM: Depart from the hotel to reach Paltuding, the starting point of the Mount Ijen trek.
01:00 AM: Begin the hike up to the rim of Mount Ijen. The hike takes around 1.5 to 2 hours.
03:30 AM: Arrive at the rim of Mount Ijen, and if the conditions allow, witness the mesmerizing blue fire phenomenon.
05:30 AM: Enjoy the beautiful sunrise from the rim of the crater.
07:00 AM: Descend from Mount Ijen and return to Paltuding.
08:00 AM: Depart from Paltuding and head back to Bondowoso.
10:00 AM: Arrive in Bondowoso and have a breakfast.
11:00 AM: Depart from Bondowoso and drive back to Malang.
03:00 PM: Arrive at your hotel in Malang, where the tour concludes.
Accommodation Options
When it comes to accommodation, there are a variety of options available to suit different budgets and preferences. From comfortable guesthouses and mid-range hotels to luxury resorts, you'll find a variety of options in nearby towns and villages. However, we offer accommodation in tour package complete facilities that is generally used by visiting tourists with the following prices and facilities.
| Participant | Price Per Person (IDR) |
| --- | --- |
| 1 | IDR 5,600,000/pax |
| 2 | IDR 3.050,000/pax |
| 3 | IDR 2,450,000/pax |
| 4 | IDR 2,150,000/pax |
| 5 | IDR 1,950,000/pax |
| 6 | IDR 1,700,000/pax |
Tour Includes :
Transport Private In Out Surabaya International Airport, Train Station, Bus Terminal , Hotel or Other Public Area
Gazoline , Toll Ticket
English speaking driver
Accomodation 1 Night Hotel in Bromo Standard Room Type (Bromo Permai Hotel, Cafe Lava Hotel, Cemara Indah Hotel)
Accomodation 1 Night Hotel in Ijen Bondowoso Superior Room Type (Ijen View Resort, Dreamland Hotel)
Entrance fee Bromo and Ijen for foreighn tourist
Jeep 4WD Sunrise Tour Bromo and Bromo Crater
Local Guide In Ijen
Gas Mask Rent in Ijen
3.4. Transportation
To reach Mount Bromo and Ijen Crater from Malang, you can hire a private tour or join a group tour. The journey usually involves a combination of road trips and short hikes. It's important to ensure your transportation arrangements include convenient pick-up and drop-off points, as well as comfortable vehicles equipped for the terrain.
Exploring Mount Bromo
Mount Bromo, with its ethereal landscapes, offers a plethora of attractions that will leave you in awe. Here are some highlights to include in your Bromo Ijen Tour itinerary:
Sunrise at Penanjakan Viewpoint
One of the most mesmerizing experiences in the Bromo Ijen Tour is witnessing the sunrise from the Penanjakan Viewpoint. Set your alarm early and embark on a thrilling jeep ride to this vantage point. As the first rays of sunlight illuminate the horizon, you'll be greeted with a breathtaking panorama of Mount Bromo and the surrounding volcanic landscape.
Bromo Crater and Savannah
Get up close and personal with the Bromo Crater, the epicenter of volcanic activity in the region. A short hike from the parking area will lead you to the rim of the crater, where you can witness the billowing smoke and hear the rumblings from the depths of the Earth. The surreal Savannah, a vast expanse of golden grasslands, surrounds the crater, creating a picture-perfect backdrop for your exploration.
Whispering Sands
Don't miss the opportunity to visit the Whispering Sands, also known as Pasir Berbisik. This area is characterized by its fine volcanic sand and a serene atmosphere. Take a leisurely stroll across the sands and let the wind whisper secrets in your ears. The Whispering Sands offer a unique and tranquil experience amidst the volcanic wonders of Mount Bromo.
Discovering Ijen Crater
As you continue your Bromo Ijen Tour, the journey takes you to the captivating Ijen Crater. Here are the highlights of this part of the tour:
Blue Fire Phenomenon
One of the most extraordinary natural phenomena in the world can be witnessed at Ijen Crater—the mesmerizing Blue Fire. This rare phenomenon occurs due to the combustion of sulfuric gases, creating an otherworldly blue glow in the darkness of the night. Prepare to be amazed as you descend into the crater and witness this magical spectacle up close.
Hiking to the Crater
Embark on an invigorating hike to reach the rim of Ijen Crater. The trek offers stunning views of the surrounding landscape and a glimpse into the volcanic activity. As you ascend, you'll witness the dramatic transformation of the scenery, from lush greenery to the surreal lunar-like landscape near the crater.
Sulphur Miners
During your visit to Ijen Crater, you'll encounter the remarkable sulfur miners. These brave individuals extract sulfur from the depths of the crater, carrying heavy loads up the steep slopes. Their dedication and resilience serve as a testament to the human spirit. Take a moment to interact with them and learn about their challenging work.
Safety Tips and Precautions
While embarking on the Bromo Ijen Tour, it's crucial to prioritize your safety. Here are some essential tips and precautions to keep in mind:
Weather Conditions
The weather in the Bromo and Ijen regions can be unpredictable. It's advisable to check the forecast before your trip and come prepared with appropriate clothing and gear. Be aware of potential changes in weather conditions and adjust your plans accordingly.
Physical Fitness
Both the Bromo and Ijen excursions involve hiking and physical activity. Ensure that you are in good physical condition to undertake the hikes and endure the challenging terrains. Stay hydrated, take breaks when needed, and listen to your body.
Protective Gear
To fully enjoy your Bromo Ijen Tour, consider wearing protective gear such as sturdy hiking shoes, a hat, sunglasses, and sunscreen. These items will shield you from the sun, volcanic ash, and potential hazards along the trails.
Capturing Memories
The Bromo Ijen Tour offers endless opportunities for capturing breathtaking photographs. Here are some tips to enhance your photography experience:
Photography Tips
Capture the sunrise at Penanjakan Viewpoint by adjusting your camera settings to achieve the perfect exposure and composition.
Experiment with different angles and perspectives to capture the vastness of the landscapes and the unique formations of Mount Bromo and Ijen Crater.
Use long exposure techniques to create stunning effects when photographing the Blue Fire phenomenon at Ijen Crater.
Must-Visit Spots for Photos
Penanjakan Viewpoint: Capture the panoramic view of Mount Bromo and the surrounding volcanic landscape during sunrise.
Bromo Crater: Photograph the smoking caldera against the contrasting backdrop of the Savannah.
Ijen Crater: Capture the ethereal blue glow of the Blue Fire phenomenon and the rugged beauty of the crater's surroundings.
Conclusion Mt Bromo and Ijen Crater Tour from Malang
Embarking on a Bromo Ijen Tour from Malang is a truly remarkable adventure that allows you to witness the awe-inspiring beauty of Mount Bromo and Ijen Crater. From stunning sunrises and volcanic landscapes to encountering sulfur miners and capturing unforgettable moments, this tour offers a perfect blend of natural wonders and cultural experiences. Immerse yourself in the beauty of these extraordinary destinations, and let the Bromo Ijen Tour create lasting memories.
FAQs
1. Can I visit Bromo and Ijen in a single day?
While it's possible to visit both destinations in a single day, it's highly recommended to allocate more time to fully enjoy the experience and explore each location thoroughly. A multi-day tour allows you to witness the sunrise, hike, and immerse yourself in the beauty of these natural wonders.
2. Is the Bromo Ijen Tour suitable for children?
The Bromo Ijen Tour involves hiking and can be physically demanding. It's important to assess the physical fitness and endurance of your children before deciding to bring them along. Younger children may find the trek challenging, so it's advisable to consider their capabilities and consult with a tour operator to ensure a safe and comfortable experience.
3. Are there any age restrictions for visiting Ijen Crater?
There are no specific age restrictions for visiting Ijen Crater. However, due to the challenging terrain and potential hazards, it's essential to assess the physical fitness and endurance of all visitors, especially children and elderly individuals. It's recommended to consult with a tour operator who can provide guidance based on individual circumstances.
4. Can I witness the Blue Fire phenomenon at any time of the year?
The Blue Fire phenomenon at Ijen Crater is dependent on the sulfuric gas activity and atmospheric conditions. While it can occur throughout the year, the visibility of the Blue Fire may vary. It's advisable to check with local guides and tour operators for the most up-to-date information and plan your visit accordingly.
5. Is it possible to combine the Bromo Ijen Tour with other destinations in East Java?
Yes, it's possible to combine the Bromo Ijen Tour with other attractions in East Java. Popular options include visiting the cultural city of Surabaya, exploring the enchanting landscapes of the Tumpak Sewu Waterfall, or experiencing the natural wonders of the Kawah Ijen coffee plantations. Consult with a tour operator to customize your itinerary and make the most of your trip.