Bromo Ijen Tour From Surabaya. Anyone who like adventure and the beauty of nature must do the Bromo Ijen Tour in Indonesia. In the center of East Java, two amazing volcanic mountains named Mount Bromo and Mount Ijen are visited during this thrilling adventure.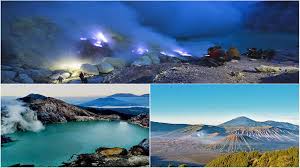 The journey begins with an exhilarating sunrise excursion to Mount Bromo, where guests may take in the stunning nature of the surrounding area and take in the breathtaking view of the sunrise over the crater.
Visitors are then taken to Mount Ijen to see the fascinating "blue fire" phenomena, which is brought on by the burning of sulfuric gases. This unusual occurrence is a fantastic pleasure for both nature enthusiasts and adventure seekers. The climb to Mount Ijen's crater lake, where tourists can see the gorgeous turquoise-colored acidic lake, is unquestionably the tour's high point. Visitors are sure to be completely in awe of this incredibly amazing sight.
In many cases, the Bromo Ijen Tour begins in Surabaya. The second-largest city in Indonesia, Surabaya, is situated in the East Java region. It is an ideal beginning point for the tour because it is well connected to other significant Indonesian cities and has a crowded airport and train station. From Surabaya, visitors can be reserve Mount Bromo and Ijen Crater Tour Package.
Bromo Ijen Tour From Surabaya
Bromo Ijen tour is a well-liked Indonesian vacation package, particularly for outdoor enthusiasts. Two locations will be visited on this tour: Mount Bromo and Ijen Crater.
You will go to Mount Bromo, one of the most well-known tourist spots in East Java, from Surabaya. One of Indonesia's most breathtaking views may be seen at sunrise from the Mount Penanjakan viewpoint.
You will go to Ijen Crater, known for its turquoise lake and blue fire, after visiting Mount Bromo. Even though the trek to the crater's top is difficult, the stunning vistas are well worth it.
Many travel companies in Surabaya provide Surabaya Bromo Ijen tour package. Depending on the route and the amount of locations you choose to visit, the tour typically lasts 3 days 2 Nights. Before booking the vacation, be sure to pick a dependable tour operator and complete facilities.
Itinerary Surabaya Bromo Ijen Tour 3 Days 2 Nights
An example schedule for a 3-day, 2-night tour of Surabaya and Bromo Ijen is shown below:
Day 1: Surabaya to Mount Bromo Area
Transfer to the Mount Bromo area after being picked up in Surabaya
For a coffee break and a chance to sample local cuisine, stop in Pasuruan City.
When you get there, register at your hotel in the Bromo neighborhood.
Free time to relax or explore the region
Day 2: Mount Bromo Sunrise and Crater to Ijen Area
For a sunrise glimpse of Mount Bromo, rise early and ride a 4×4 Jeep to the lookout on Mount Penanjakan.
Go down to the Sea of Sand and climb Mount Bromo.
After breakfast, go back to the hotel to check out.
Drive to the region of Ijen Crater
Upon arrival at your accommodation, relax.
Day 3: Ijen Crater Blue Fire to Surabaya
Drive to Paltuding basecamp for Ijen trekking at approximately 00.00 am.
See the blue flame and daybreak by taking a hike to the Ijen crater.
Leave the crater and get back to the hotel to have breakfast.
Leave the hotel and take a transport back to Surabaya.
Drop-off in the Surabaya location of your choice
Keep in mind that you can alter this schedule to suit your needs, and the tour company you select might have a slightly different one. Prior to scheduling the tour, make sure to go through your choices with the tour operator.
Mt Bromo Ijen Crater Tour Price from Surabaya
| Participant | Price Per Person (IDR) |
| --- | --- |
| 1 | IDR 5,600,000/pax |
| 2 | IDR 3.050,000/pax |
| 3 | IDR 2,450,000/pax |
| 4 | IDR 2,150,000/pax |
| 5 | IDR 1,950,000/pax |
| 6 | IDR 1,700,000/pax |
Bromo Ijen Crater Tour Price Includes:
– Hotels in Bromo and Ijen include breakfast
– Entrance tickets to Bromo and Ijen National Park for foreign tourists
– Standard private tourist transportation
– Gasoline and experienced driver
– Toll ticket and parking
– Jeep in Bromo for sunrise and Bromo crater
– Gas mask rental at Ijen
– Ijen local guide
Bromo Ijen Crater Tour Price Does Not Include:
– Lunch and Dinner
– Plane / Train Ticket to Surabaya
– Horse Rental in Bromo
– Travel Insurance
– Personal expenses such as phone calls, laundry, beverages, etc
How to Getting Surabaya Before to Bromo and Ijen Crater
Surabaya is a large city located on the eastern coast of the island of Java, Indonesia. Here are several ways to get to Surabaya:
By Air: Surabaya has an international airport, Juanda International Airport, which is served by many airlines. You can fly directly to Surabaya from many major cities in Asia, Australia, and the Middle East. Once you arrive at the airport, you can take a taxi or public transportation to your destination in Surabaya.
By Train: Surabaya is connected by train to other cities in Java and beyond. You can take a train from Jakarta or Bandung to Surabaya. The train journey takes about 12-14 hours, depending on the type of train you take.
By Bus: Surabaya is also accessible by bus. You can take a bus from Jakarta, Bali, or other cities in Java to Surabaya. The journey time varies depending on the distance and the type of bus you take.
By Car: If you prefer to drive, you can rent a car and drive to Surabaya. The city is well connected to other cities in Java via highways and main roads.
It's recommended to check the latest travel advisories and entry requirements before planning your trip.
Please contact us form more information about Mount Bromo and Ijen Crater tour from Surabaya – BromoPackageTour.Com