Mount Semeru Trekking 3 Days 2 Nights. Climbing the volcano Semeru Mahameru which is active as the highest peak on the island of Java Indonesia has become the dream of many climbers because this volcano has a very challenging hiking terrain.
Mount Semeru is located in Bromo Semeru Tengger National Park, the border between Lumajang and Malang district and can be reached from the city of Surabaya in about 5 hours of driving before continuing to climb and camp for 3 Days 2 Nights.
The scenery at the foot of Mount Semeru during being on the hiking trail to the summit is very beautiful. Climbers can enjoy Lake Ranu Kumbolo, which is famous for its greenish green water and stunning green hills around it. Just 15 minutes walk from the lake is an amazing view of the prairie "ie Oro Oro Ombo" covering an area of ​​about 100 hectares. The Semeru hike tour is truly an amazing experience.
Mount Semeru Trekking 3 Days 2 Nights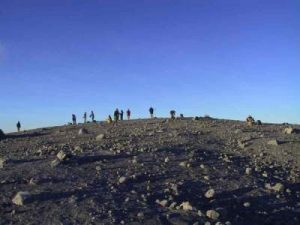 All you need to know about climbing Mount Semeru Mahameru. Mount Semeru is the highest mountain on the island of Java, with the height of the peak of Mahameru, 3,676 meters above sea level (masl). It takes around 3 days to climb the summit of Mount Semeru round trip. To climb the mountain can be reached through the city of Surabaya and Malang. From this city take transportation to the Ranu Pane village before starting the climb.
You may also like : Mount Bromo Tour from Surabaya
The highest mountain climbing on Java cannot be done at any time because the semeru hiking trail is only opened in the dry season based on the climate in Indonesia. The best time to climb to Mount Semeru is from May to September. Although from October to December the Semeru trekking route is opened, but in Indonesia, after September it usually enters the rainy season. Bad weather can hinder of a trekking tour mt.semeru and can make climb activity more dangerous.
3D2N Hiking Mount Semeru Volcano Itinerary
Day 01 : Pick Up – Ranupane – Lake Kumbolo (Ranu Kumbolo)
From surabaya airport our staff will pick up and then transfer toward tumpang malang or cemara lawang in bromo area. Arrive at tumpang malang or cemara lawang bromo suttle jeep 4WD direct to Ranupane.
From ranupane start trekking to Lake kumbolo. It will take you about 3-4 hours to get there. Stay overnight at tent.
Day 02 : Lake Kumbolo – Kalimati (base camp)
Wake up in the morning and view sunrise and beautiful lake kumbolo. After finish enjoying here,breakfast and then hike through tussock savannah around 3 hours. Rest at tent in kalimati base camp until midnight.
Day 03 : Trekking Semeru Summit – Ranupane – Transfer Out
At night from Kalimati base camp a path leads up through mountain forest to the treeline (about 2 hours). The final ascent, above the treeline, is a steep and somewhat strenuous walk over volcanic scree and sand, which will take you another 1 to 2 hours. The top of mount sumeru is a rather big, flat area. The present-day crater is a bit further on, below the summit, to the south. From the top, you cannot look inside the crater. For your own safety, stay clear of the crater rim.
Enjoying at semeru summit,view sunrise,etc. Back to kalimati base camp, breakfast and then walk down back to ranupane village and transfer toward surabaya. Semeru Trekking Tour Package Finished.
Mount Semeru Climbing Package Price 3 days 2 Nights
| Total Person | Price Per Person (IDR) |
| --- | --- |
| 1 Person | 7.650.000 |
| 2 Person | 5.200.000 |
| 3 Person | 4.650.000 |
| 4 Person | 4.400.000 |
| 5 Person | 4.225.000 |
Tour Mount Semeru Summit Facility
– private transport accomodation for 3d/2n Semeru Trekking Program (incl : car, driver, petrol, parking and toll fees)
– jeep 4wd Tumpang Village to Ranu Pani Sub Village
– 1 nite simple homestay / guesthouse ==> standart room with breakfast, cool bathroom& no hot shower
– english speaking driver
– mineral drinking water
– tour guide
– porter
– entrance fee Semeru Trekking
– camping & cooking equipment
– medical check up notices by local doctor
– 2xbreakfast ; 2xlunch ; 2xdinner (during Semeru Trekking)
Not including the tour :
– travel insurance
– personal expenses