Surabaya Bromo Ijen Bali Tour 3 Days 2 Nights is the best tour package for tourists who will journey to Mount Bromo and Ijen Crater starting from Surabaya and drop off to Bali. After arriving in Surabaya, then on the first day you are picked up to visit Mount Bromo, then continue to Ijen Crater before the tour ends with being dropped off in Bali.
3 day 2 night trips starting in Surabaya to Bromo Ijen and finish at Bali. Our driver to pick you up at Surabaya city center upon arrived. You can set a meeting point pick up direct from the airport, train station or hotel in Surabaya with timing that you can arrange itself.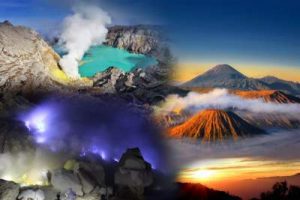 Surabaya Bromo Ijen Bali Tour 3 Days 2 Nights Itinerary
Day 1: Surabaya – Mount Bromo Hotel
Our driver will pick you up in Surabaya and then take you to Mount Bromo hotel with a duration drive for about 3 hours. Arrive at Bromo, hotel check-in and free program
.If the departure time goes to Bromo from Surabaya in the morning, it allows you to first visit the Madakaripura waterfall (Optional).
Day 2: Bromo Sunrise Tour – Ijen Hotel
The next day preparing for the tour in Bromo starts at 3 am, our driver has arranged a 4×4 jeep and to take you across the sand sea area in Bromo to the point of seeing the sunrise. Prepare a jacket and cold temperature protective clothing because you are at high altitude in the dark before morning.
After the sun rises, the jeep will take you down to the sand sea of ​​Mount Bromo. Then hike to the active volcano crater. This is not a challenging mountain climb but just a normal walk and anyone can without having to have expertise.
After from Bromo Crater, return to the jeep to go to the hotel and take breakfast. Pack luggage and drive to Ijen. Driving to the hotel in Ijen for about 5 hours. When driving to the hotel in Ijen there is a little break, lunch at the beach restaurant Pasir Putih Bondowoso. After 1 hour then proceed to the hotel to check-in and rest.
Day 3: Ijen Crater Tour Blue Fire – Bali Drop Off
At 12 midnight, preparations go to Ijen. Then Drive from the hotel to the climbing post in Ijen about 1.5 hours. Then our driver will prepare a local guide who is ready to accompany you to climb to the top of Mount Ijen.
Climbing at Ijen is much more difficult because it starts at midnight, cold temperatures and as far as 3 km. After 1/2 way from the path to the top of Ijen immediately wear your gas mask because the sulfur smell is quite strong. Arriving at the top of Ijen you can see the beauty of the blue fire of Ijen and the spectacular sulfur crater lake.
Satisfied climbing the Ijen crater then returned to the parking area. Our driver prepares to take you to the ferry port in Banyuwangi then cross to the Gilimanuk port of Bali and continue driving to your destination on the island of Bali. Tour 3D2N is ended.
The Price of Bromo Ijen Tour Drop Off Bali 3D2N
Drop Off Ferry Port to Bali 3D2N
| Participant | Price Per Person (IDR) |
| --- | --- |
| 1 | IDR 5,600,000/pax |
| 2 | IDR 3.050,000/pax |
| 3 | IDR 2,450,000/pax |
| 4 | IDR 2,150,000/pax |
| 5 | IDR 1,950,000/pax |
| 6 | IDR 1,700,000/pax |
Drop Off Bali Island 3D2N
| Participant | Price Per Person (IDR) |
| --- | --- |
| 1 | IDR 7.350,000/pax |
| 2 | IDR 3.925,000/pax |
| 3 | IDR 3,050,000/pax |
| 4 | IDR 2,600,000/pax |
| 5 | IDR 2,300,000/pax |
Tour Includes :

Private car for trips ( licensed driver, fuel, private car with AC, toll ticket, parking )
4WD jeep for Bromo Sunrise
All entrance to the National Park Bromo, Ijen Crater,
Local guide for Ijen Blue Flame Tour
1-night Hotel in Bromo (Cafe Lava/Cemara Indah/Bromo Permai/Yoschi)
1-night Hotel in Ijen (Ijen View/Palm Hotel)
Bromo Sunrise Tour & Ijen blue flame tour
Breakfast
Mineral water is available in the car
Gas mask rent in ijen
Ferry Ticket
Facilities not include:
Horse
Meal (lunch and dinner)
Tipping
Notes : If the hotel is not suitable it can be upgraded at an additional cost according to the rate. The following is the choice of hotel in bromo and ijen area.
Hotel of Mt. Bromo area (Cafe lava Hostel, Bromo Permai Hotel , Cemara Indah Hotel, Yoschi Hotel, Adas Hotel, Nadia Hotel, Similar) .
Extra payment upgrade to Whiz Capsule Hotel Grand Bromo , Lava View Lodge, Sumber Makmur Hotel, Jiwa Jawa Resort, Bromo Terrace Hotel , Bromo Eco Lodge Hotel , Plataran Bromo Hotels And Resort/Similar).
Hotel of Ijen Crater area (Ijen View Hotel, Arabica Guest House, Catimor Hotel/ similar).
Extra payment upgrade to Ketapang Indah Indah Hotel, Watu Dodol Cottages , Ijen Resto, Ijen Resort and Villas, Grand Harvest, Mirah Hotel /similar).
If you have any question and need more information about Mount Bromo Ijen Crater Tour, please do not hesitate to contact us.