Ijen Crater is the largest crater lake on the island of Java. You can see the panorama of this lure at night until dawn.
Central Java region, precisely in Kejajar, Wonosobo Regency, Dieng. There is also a very active and toxic crater. Toxic gases are very dangerous for humans. because it contains too much carbon dioxide.
Popular Tour in East Java : Mount Bromo Ijen Tumpak Sewu Tour 4D3N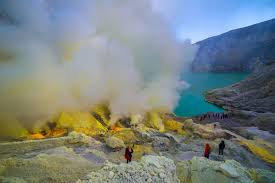 Ijen Crater
To reach the crater, you have to climb 3 miles high, this will take about 1.5 hours. The slope of the incline is 25-35 degrees. The tiredness of climbing will pay off when you find the beautiful charm of blue fire in one of these charming tourist attractions in Banyuwangi.
This tour or Mount Ijen Crater is located between the borders of Banyuwangi and Bondowoso, East Java Province. It is one of the volcanoes that is still active. Mount Ijen has a height of 2,368 meters above sea level. The crater itself is an acid lake which has a depth of about 200 meters and a crater width of about 5466 hectares, climbing activities in Ijen crater tour are solely to see the beauty of the green to blue Ijen crater, but there are climbing activities to Ijen crater with the aim of enjoying and seeing blue fire (blue fire / blue flame).
The height of Mount Ijen is still relatively shorter than the volcanoes in the Yogyakarta area. Mount Merapi is also no less beautiful than Mount Ijen. On the mountain there are many mystical stories and very interesting to visit.
The beauty of Mount Ijen
Ijen Crater is one of the charms of Indonesia's extraordinary natural beauty and has brought many tourists from various countries. This is where you can see the vast and stunning crater lake along the sulphurous blue flames at night. In addition to being a hiking tourism destination, Ijen is the largest sulfur mining area in East Java that still uses traditional methods. Ijen has a seemingly endless source of sublimate sulfur used for various industrial chemicals and sugar refining.
You may also like : Bromo Ijen Tour 3 Days 2 Nights
The crater is located at a depth of more than 300 meters below the caldera wall.
The view of the crater is so amazing when it is illuminated by the morning sun emitting a turquoise sheen. The light that also shines from behind Mount Merapi, the brothers of Mount Ijen, should not be missed to be captured by the camera.
The crater water is calm bluish green but you are not allowed to go down because the crater water has a volume of approximately 200 million cubic meters hot at a temperature of 200 degrees Celsius. The acidity of the crater is very high, close to zero, so it can dissolve the human body and even clothing quickly.
Besides Ijen Crater, in East Java there are also tourist attractions that are no less interesting. namely Mount Bromo, Probolinggo to be precise and the Malang area. If you are on vacation in Surabaya, Indonesia, don't miss to stop by these two most popular active volcanoes in East Java. These two mountains are only a 4 hour drive away.
You can start this journey from Surabaya and end in Bali. The blue fire in Ijen is the main sight that can only be seen in the morning, from 01am to 04am before sunrise. This bright color comes from the combustion of oxygen and sulfur gases. The Blue Fire phenomenon in Ijen Crater occurs naturally and may have existed hundreds or even thousands of years ago.