Mount Bromo is well-known tourist destinations, both domestic and foreign traveler in East Java. Sturdy stand as high as 2.329 m above sea level, it has the heaven view that you don't want to miss. It may be small when measured against other volcanoes in Indonesia, but the magnificent Bromo mountain will not disappoint with it's spectacular views and dramatic landscapes.
Mount Bromo has a vast ocean expanse of sand, fresh air, and cold air. This is what makes Bromo tourism favored by tourists. At the peak of this mountain, you can get a view either of the sunrise or sunset, one of the most alluring in Indonesia.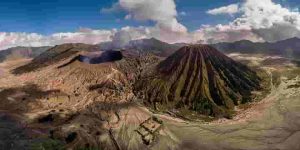 Mount Bromo – The Beautiful Volcano
Mountain whose name is derived from the name of a God in Hindu religion, Lord Brahma, is part of the Bromo Tengger Semeru National Park and has become the most famous tourist attractions in East Java province. This national park, covering 800 square kilometers surrounding area of Mount Bromo and Mount Semeru. Administratively, this mountain is located in East Java province and territory into four local authorities, namely Probolinggo, Pasuruan, Lumajang, and Malang.
One thing that you must know is at the top of Mount Bromo, the range of air temperature can be between 3 to 20 degrees Celsius. But the temperature may be several degrees below zero during the dry season. After the sun rises, the weather becomes warm and hot pretty fast. This condition is a unique piece that makes Mount Bromo one of the most interesting places in East Java.
The best time to take a sightseeing trip to Mount Bromo is in mid June to October. This period is the dry season in the area of Mount Bromo. Thus, you can explore it more freely. Giving a sense of security and comfort in the course of the tour. However, the visitor statistic of Mount Bromo also quite crowded in that period.
Best Bromo Tour Package :
A lot of things you can do in this mountain. Besides witness the famous and magnificent sunrise that well-known all over the world, you can also see the active crater that full of smoke. And also you can see the sea of sand that in the way to the peak of Mount Bromo.
With it's beautiful panoramic scenery, easy access, and tourist oriented facilities, no wonder that this is the one most favorite places among tourist.
You Need To Know Before Going to Bromo
Tour Mount Bromo is one favorite destination in Bromo Tengger Semeru National Park. East Java. This mountain is an active volcano, surrounded by a sea of sand covering an area of 10 square kilometers. The temperature at the summit of Mount Bromo can reach 2 to 20 Celcius Degree.
For that, you need to prepare well to enjoy one of the best mountain tourism in Indonesia. In addition, you should be able to plan your arrival time. When is the perfect time for a panoramic view of the sunrise at Mount Bromo. Thus the choice of an effective travel route will be very useful. Preparation is the key to an enjoyable trip. Below is a 5 Tips Before Tour to Bromo Mountain You Need To Know.
1. Plan Your Trip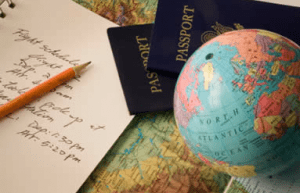 The first mount bromo tips we give you is plan your trip. You need to know, tourist attraction in Mount Bromo is very much in demand by tourists, both from local and foreigner tourists. So many tourist visiting Mt Bromo.
In the peak season, you might find it difficult to get accommodation, hotel or guesthouse that is around Mount Bromo tourism. Planning ahead of time will be very useful in this regard. Also, you might have to booking jeep that will bring you to see Bromo view Sunrise.
2. Know The Perfect Time To Visit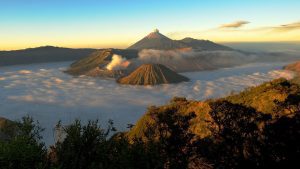 Next Mount Bromo Tips is you have to know when is the best time to visit here. The best time for taking a perfect sightseeing trip to Mount Bromo is at the mid June to October. This period is the dry season in the area of Mount Bromo. Thus, you can explore Mount Bromo more freely, giving a sense of security and comfort in the tourist trips. You will see the sunrise bigger and rounder.
However, the statistic of Mount Bromo visitors also show quite crowded in that period of time. So prepare your self.
3. Prepare Enough Cash
This is one of the most important Mount Bromo tips. You have to remember that there is no Automatic Teller Machine (ATM) in the area of Mount Bromo. So you can not swipe your cards to supply your financial needs there. Therefore, bring enough cash during your activities at Mount Bromo. Not too much and not also lack of money.
4. Bring The Right Equipment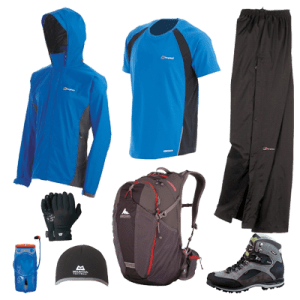 At the peak of Bromo volcano, it will be very cold air condition. At low temperature, the cold sense can even pierce the bone. So to prevent that, here it the equipment that might help you
Jacket or cold clothing. We highly recommended using jacket that can effectively withstand the cold, not just a fashion jacket. Besides jacket, we also suggest to brought some shirt reserve. So that when a jacket is not enough to protect you from cold, several sheets shirt might wrap your body in addition to the cold retaining jacket.
Scarves, hats, gloves. Most jackets don't cover the neck area of the body. A good idea to bring your neck scarf rather than later shivering. similarly, hats and gloves. This is recommended especially for those of you who have a bald head. Besides protecting the head, it is useful to cover the ears which the aims is to reduce air pressure when you are at the top of the mountain. The choice to bring scarves, hats, and gloves will be very useful especially for woman. If you don't have these tools, no need to worry. Because there will be seller that sells various scarves, hats, and gloves there. Although the price will be slightly more expensive.
Shoes, not sandals. Don't ever think to use sandals. The contours of the road to be traversed mostly rocky and slippery. Boots or hiking boots would be more useful than sneakers. Because in addition to powerful, this type of shoe will protect you from injury.
Flashlight. If you want to enjoy the sunrise at the top of the hill, you will begin to hike when the sky was still dark. Illumination of a flashlight will help you tread the path that is steep.
Mask. Bromo mountain region tend to be sandy and windy. With the mask is to protect your nose and your mouth from exposure to sand dust that can cause coughing and sore throat.
Glasses or Sunglasses. It will also protect you from sand and dust. In addition, it will be support your personal style.
5. Don't Forget To Bring Camera and Friends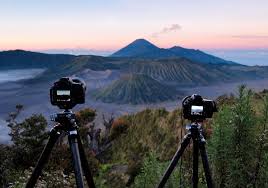 To travel to Bromo and reach its summit requires struggle, big effort, and a lot of preparation. Because of that, these are tools that you shall take it. So you don't let your pain go in vain.
The sunrise moment is so quickly. Don't miss that moment and of course, don't forget to picture it with your camera.
Those are several mount Bromo tips we can share for you. Mount Bromo is one most favorite attraction in Indonesia. We hope that those tips can help you feel an unforgettable experience when you travel to Indonesia and visit Mount Bromo.