Sukamade Beach, Meru Betiri National Park Banyuwangi, is a beautiful beach located in the Meru Betiri National Park area. Turtle conservation sites and their habitats on Sukamade Beach Banyuwangi are the main activities in this national park.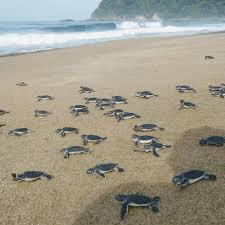 Tourists and researchers from all over the world have come to Sukamade Meru Betiri Beach, to research, observe, and witness with their own eyes how the "rare attraction" of turtles lays eggs, as well as various other conservation activities.
Sukamade Turtle Beach Banyuwangi
Sea turtles are threatened with extinction. This animal is considered rare because according to research its existence has existed since 150 million years ago. The main causes of threatened extinction are hunting and natural habitats (coastal and marine ecosystems) are damaged.
This ancient animal was only on land only when it was about to lay eggs. As soon as the eggs hatch, the baby turtles immediately walk towards the sea, then swim across the open sea. Only female turtles occasionally come ashore to lay eggs, male turtles spend their entire life in the ocean.
Turtles have geomagnetic imprinting, which is a natural navigation tool. Although the turtle always roams the ocean for thousands of kilometers, it will still return to the shore where it was born, to lay eggs.
Sukamade Turtle Conservation Tour
At Sukamade Beach, Meru Betiri is a natural habitat for 4 species of sea turtles from 7 types of turtles in the world, and 6 species in Indonesia, namely green turtles, olive ridley turtles, leatherback turtles and hawksbill turtles. Green turtles are the most that we can find in Sukamade.
Sukamade Tourism Object is included in the category of conservation tourism. Guided by national park officials and with strict rules, we can see turtles laying eggs at night is an extraordinary experience.
Watching Turtles Laying Eggs in the Wild
The struggle for turtles to lay eggs is indeed very difficult because they have to carry their bodies weighing hundreds of kilograms, walking tens of meters from the open sea to dry sandy beach areas.
Then slowly it begins to dig a meter deep with its fins, making nest holes to lay its eggs.
Usually the turtle will make another hole that looks like a nest, as a way of tricking predators that prey on turtle eggs, such as wild boars and monitor lizards.
After the nest has been dug, the turtles start laying eggs. Normally there are about 80-150 eggs, in one laying. A lot huh..? But make no mistake, the possibility of turtle eggs that hatch and then survive to adulthood, is only about 1-2% of all eggs.
When the turtles finish laying their eggs, we are only allowed to approach, we can see and document through photos / videos, but don't let the turtles be disturbed. Officers will pick up the eggs and count them, and then transfer them to semi-natural hatcheries.
Baby Turtle Release
Besides watching turtles lay their eggs, there are other tourist activities in Sukamade Banyuwangi that are no less interesting, namely releasing hatchlings (baby turtles) into the open sea. The process of releasing hatchlings is only carried out in the morning around 06.00-06.30, and in the afternoon around 15.00-17.00.
So, turtle eggs collected by officers will be transferred to semi-natural hatcheries, so that they are not stolen or eaten by predators. We are also allowed to visit this hatchery area. In the hatchery, turtle eggs will hatch in about 7-12 weeks.
After the turtle eggs hatch, the hatchlings will be released, released into the open sea. We can participate in the process of releasing hatchlings. You can imagine, these hatchlings whose size is no more than the grip of our hands will swim into the open sea, wading through the fierce ocean waves. How great is nature…
Sukamade Banyuwangi tourism will usually leave memories as well as contemplation for tourists. We will learn to appreciate the environment more through this Sukamade Banyuwangi tourism activity.
Path and Route to Sukamade
Sukamade Beach Banyuwangi is about 90 km from downtown Banyuwangi. It can be reached in about 5 hours by offroad car, such as a Jeep, Land Rover, Trooper, or other 4WD car.
The route to Sukamade requires a reliable car. From the beginning the asphalt road was smooth, then the asphalt road was damaged, then about the last 8 km it turned into a rocky road, dirt road, and even entered the water to cross the river. It will really be an exciting adventure for every visitor.
On the way, we will pass two beaches, namely Rajegwesi Beach and Teluk Hijau Beach which are very beautiful. We can stop by to visit those beaches before entering / leaving the Sukamade area.
Travel tips and rules in Sukamade Banyuwangi
To see turtles laying eggs, we must use a guide from a national park official
Bring a flashlight, because on the way to the beach, we will walk through the forest.
By the time you reach the beach, turn off all light sources. Turtles are very sensitive to light. The slightest amount of light, whether from flashlights, cellphones, or even cigarette flames, will prevent the turtles from coming ashore.
When national park officials look for turtles that lay eggs, we must wait quietly, keep our voices low, don't smoke, and don't make lights.
When the officers have found the turtles that have started laying eggs, we can only approach the turtles. Take a position behind the turtle, so that the turtle is not disturbed.
We can take photos or videos turtles laying eggs , but don't use flash lights in front of turtles because can blind turtles.
Don't speak in a loud voice, don't make any movements that might startle the turtle or feel threatened
Obey and follow all directions from national park officials
When releasing hatchlings, place the hatchlings in the sand carefully, not to fall from a height, and not to be stepped on.
To stay in Sukamade, we can camp at the camping ground or rent a tourist lodge in the national park office area, or we can stay at a guesthouse owned by a plantation, not too far from there.
When it's rainy season, bring a raincoat or umbrella
Don't leave trash, always take your own trash home with you.
Leave nothing but footprints, take nothing but photos and videos, and kill nothing but time.
Sukamade Tour Package
Interested in an adventure to Sukamade? We from the Bromo package tour website have prepared a Sukamade Tour Package with a combination of Mount Bromo and Ijen tours.
Click here : Mount Bromo Ijen Sukamade tour 4 days 3 nights
Enjoy exciting adventures and unforgettable experiences, please order now.