Mount Ijen Tour Midnight is a trip to Mount Ijen to see the blue fire phenomenon with departures from Surabaya, Malang, Banyuwangi, Bali without staying overnight. Ijen trekking at night is one way to visit ijen blue fire. A simple trip takes 1 day to see the amazing volcanic crater, the natural phenomenon of blue fire and bluish lake inside Ijen Crater and sulfur mining activities. In Indonesia is the only one.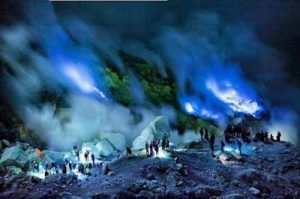 Mount Ijen Tour Midnight
Ijen Crater Tour 1 day From Surabaya or Malang with a pickup at night around 7-8 pm because of the distance from the city to Mount Ijen about 5 hours drive. Ijen blue fire tour can only be seen before the sun rises. For this reason, tourists must start climbing to the top of the Ijen crater which will start at 1 am.
Meanwhile, if you tour Ijen from Bali without staying you have to leave at 6 pm to the Gilimanuk port with a 3-4 hour drive, then cross to Java by ferry to the Ketapang port. Arriving at the port of Ketapang Banyuwangi to Ijen (Pos Paltuding) for 1.5 hours drive. Arrived at paltuding and immediately started climbing to Ijen with a local guide
Ijen Crater Tour 1 Day from Surabaya Malang Bali
Itinerary :
– 08:00 pm: Pick you up at the airport or train station or hotel in Surabaya or Malang or (pick up in Bali at 6:00 p.m. and pick up at Banyuwangi at 11 p.m.) then drive and take you to Paltuding (parking area at the foot of the Ijen mountain/campsite).
– 01.00 am: Arrive in Paltuding, start trekking for 1.5 – 2 hours to the top of the volcano Ijen with local guides.
– 02.00 am: After reaching the top of the Ijen Crater, enjoy the beauty, the turquoise crater lake, the blue fire inside the base of the Ijen Crater and the sulfur mining activities that contain sulfur from the base of the Ijen volcano.
– 07.30 am: Finished enjoying the beauty inside Mount Ijen, back to Paltuding.
– 09.00 am: Arriving in Paltuding, we will return to Surabaya or Malang or Banyuwangi Harbor to Bali. After arriving at your location on request, Ijen crater tour is complete.
Ijen Tour Package Price include
Please contact us for information on Ijen Blue Fire Tour Package Price from Surabaya Malang Banyuwangi.
Tour Includes :
– Local driver with English speaking
– Private AC (air conditined) transportation from your arrival until the finish
– Fuel and parking fee
– Mineral drinks along trip
– Breakfast after Ijen volcano trekking
– Local Guide to keep your trekking to the top
Note : Not recommended for participants with heart problems, asthma or other serious medical conditions and for pregnant women.