Ijen Blue Fire Package Tour 2 Days 1 Night. Visit Ijen volcano for the blue fire and then headed to Surabaya,Ketapang Ferry Port or Bali.Mount ijen crater located at banyuwangi has the natural beauty of the largest crater lake in Java as well as the natural phenomena the burning of sulfur werecommonly called is Ijen Blue Fire.
If you want to visit ijen I suggest departed from Surabaya or banyuwangi. With a long trip 2 days 1 night you can enjoy the natural beauty of Ijen blue fire and then returned to Surabaya or can go straight to Ketapang ferry port to destination to Bali.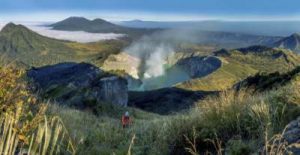 Ijen Blue Fire Package Tour 2 Days 1 Night
Itinerary Ijen Blue Fire Package Tour 2 Days 1 Night
Day 01 Pick Up Point – Hotel Near To Mount Ijen
Pick up at Surabaya or Banyuwangi and direct us shuttle to the location hotels near Mount Ijen with the long journey from Surabaya 7-8 hours, or 1-2 hours from banyuwangi.

Check in hotel and free program
Day 02 Ijen Blue Fire – Transfer Out
At 12 midnight the participants wake up, preparations to the post Paltuding (post ascent to the summit of Mount Ijen), duration trip from hotel to paltuding post around 45 minutes.

Arrived at Paltuding straight away start climbing for 2 hours as far as 3 km to the top of Ijen.

Enjoying the beauty of ijen blue fire, sunrise Ijen, Ijen crater lakes and the activities of the sulfur miners.

Back to Paltuding and we transfer heading your final destination back to Surabaya or straight to the Ketapang ferry port to bali island

program finished
The price for Ijen Crater Blue Fire 2D/1N please Contact Us
Tour incudes :
– Transport Private In Out (gazoline + driver)
– Accomodation 1 Night Hotel in Ijen (By Request)
– Entrance fee Ijen
– Local Guide
Surabaya Ijen Crater Blue Fire Tour Package 2D1N Ketapang Banyuwangi
Tourism attraction in line with the ijen crater that could be visited if you are depart from airport or train station in Surabaya and ends in Ketapang ferry port banyuwangi to bali is a mount bromo tour package.