Bromo Ijen Tumpak Sewu Malang 5 Days 4 Nights. Going to Surabaya for 5 days and 4 nights we recommend going to Mount Bromo, Ijen crater, tumpak sewu waterfall and Malang city. All of these tourist locations can be easily accessed by departing from Surabaya airport, station and ending back to Surabaya or to the port to Bali.
You need complete facilities transportation during your trip to Surabaya 5d4n and accommodation there please contact us bromopackagetour.com, because we serve travel tour in Surabaya, East Java with the aim of Mount Bromo,Kawah Ijen, Air Terjun Tumpak Sewu and Malang.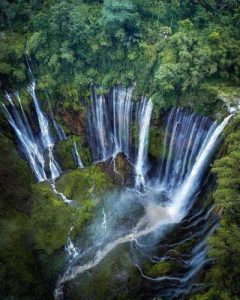 5D4N Bromo Ijen Tumpak Sewu Malang Tour Itinerary
Day 1 ( pick-up in Surabaya – Bromo Hotel)
The tour will start after being pick up by our driver or tour guide at the your Hotel in Surabaya. Then prepare to go to the area of Mt Bromo for about 3 hours drive. Stopped and visit to madakaripura waterfall (OPTIONAL). Finish trip at madakaripura waterfall, continues drive to Mount Bromo hotel, check in ,free program
Day 2 (Bromo Tour – Hotel Batu Malang – Apel Plantation – The Museum of Transportation)
You will get up early morning at 3:00 am for the preparation of the bromo sunrise tour, at 03.00 am you leave the hotel by using 4 WD Jeep Bromo to Mount Penanjakan / Kingkong Hill View point 1 which is the purpose of seeing the sunrise in this area to take picture and watch the sunrise. From the beauty of Bromo Sunrise you will see the highest mountain in Java, Semeru Mountain which releases gas of smoke every 20 minutes.
Once satisfied with the sunrise, return to the jeep and will take you to the second location of Bromo Crater. Jeep Bromo will park 1 km before Bromo crater. From the Jeep parking lot you can walk or use rent horse service to the ladder on the next bromo mountain you will pass 250 steps to the lips of the crater. After returning from the crater, the jeep will take you to the third location of the Savana / Teletubbies Hill that continues until the last point of the tour that is whispering sand. Finally jeep bromo will take you back to hotel.
breakfast, take shower, packing.then transfer out to Malang Batu City.Arrive in batu city directly to visit aple plantations.Check in hotel and continue visiting the Museum of Transportation. After you finish visit Museum of Transportation , you will back to the hotel. free program
Day 3: (Coban Rondo Waterfall – Tree House And Paragliding – Homestay at Lumajang)
After you have breakfast at the hotel, Then, the tour will to visit Coban Rondo Waterfall.Afterward, you will visit the Tree House And Paragliding in Batu.When you have finished, back to hotel and check out. Head to Pronojiwo village in Lumajang City area for about 4-5 hours driving by private car. You can stop wherever you want, talk to our driver or guide. Check in Homestay Tumpak Sewu Area ( because there are no hotels around Tumpak Sewu ),Free Program
Day 4 ( Tumpak Sewu Waterfall Tour – Mount Ijen )
Before going to the waterfall, Breakfast first then walk to the Tumpak Sewu Waterfall. This waterfall is very different from other waterfall tour because we have to follow the river, up and down the cliff. Of course we must be extra strong and careful. That waterfalls can be classified as an extreme journey is synonymous with adventure, it takes 5 hours to explore the Tumpak sewu tour series : Panorama Tumpak Sewu waterfall, Nirwana Waterfall, Telaga Biru and Goa Tetes. Goa Tetes is a cave with rainfall and a lake in it and then a waterfall and there are naturally occurring stalactites and stalagmites.
After Done in these three places then return to the accommodation area, lunch shower and then prepare to go to the area of Mt Ijen for about 4-5 hours drive.Arrive at Mount ijen area, check in ,free program.
Day 5 ( Ijen Crater Blue Fire – Ketapang Ferry port or Surabaya)
You will wake up early 12.00 am to prepare for the Ijen Blue fire tour, breakfast can be taken first and depart at 12.30 to Paltuding ( parking ), you will meet with local guide to guide to the peak of ijen for 1.5 hours climb. At the top of the mountain you will enjoy the amazing natural phenomena of the blue flame. Once satisfied with the blue flame, such as: Crater Lake Ijen, Mount Ranti, and of course you will see many people carry sulfur on their shoulders.
On average they can carry 70 Kg to 120 kg per person with a salary of about 1,100 rupiah / kg not up to 1 $. Hard work. When we finish with Ijen Tour, return to the parking area meet with our driver and then head to Ketapang Ferry port or Surabaya.
Arrive and Tour Finish.
5D4N Bromo Ijen Tumpak Sewu Malang Tour Price
| Participant | Price Per Person (IDR) |
| --- | --- |
| 1 | IDR 7.700,000/pax |
| 2 | IDR 4,975,000/pax |
| 3 | IDR 4,050,000/pax |
| 4 | IDR 3.600,000/pax |
| 5 | IDR 3.350,000/pax |
| 6 | IDR 3.150,000/pax |
Tour Includes Facilities :
Private car Minibus for whole trips ( licensed driver , fuel, private car with AC, toll ticket, parking )
4WD jeep for Bromo Sunrise
All entrance to the National Park Bromo, Ijen Crater,Tumpak Sewu,Batu Malang
Local guide for Ijen Blue Flame Tour & Tumpak Sewu Waterfall
1 night Hotel in Bromo (Cafe Lava/Cemara Indah/Bromo Permai)
1 night Hotel in Ijen (Ijen View/Palm Hotel)
1 night Homestay Tumpak Sewu
1 night Hotel in Batu City (Seulawah Grand View)
Bromo Sunrise Tour & Ijen blue flame tour
Daily Breakfast
Mineral water is available in the car
Gas mask rent in ijen
Rent Paragliding Equipment
Facilities not includes :
Horse
Meal (lunch and dinner)
Tipping
Notes : If the hotel is not suitable it can be upgraded at an additional cost according to the rate. The following is the choice of hotel in Malang ijen bromo area.
Hotel of Mt. Bromo area (Cafe lava Hostel, Bromo Permai Hotel , Cemara Indah Hotel, Yoschi Hotel, Adas Hotel, Nadia Hotel, Similar) . Extra payment upgrade to Whiz Capsule Hotel Grand Bromo , Lava View Lodge, Sumber Makmur Hotel, Jiwa Jawa Resort, Bromo Terrace Hotel , Bromo Eco Lodge Hotel , Plataran Bromo Hotels And Resort/Similar).
Hotel of Ijen Crater area (Ijen View Hotel, Arabica Guest House, Catimor Hotel/ similar). Extra payment upgrade to Ketapang Indah Indah Hotel, Watu Dodol Cottages , Ijen Resto, Ijen Resort and Villas, Mirah Hotel /similar)
Hotel of Malang area (Seulawah Grand View,Dedaunan,Ciptaningari/ similar) Extra payment upgrade to Jambu Luwuk, Singasari Resort, Amarta Hills, Royal Orchid Garden,Pohon Inn/Similar).