Interested in Mount Bromo Tour? Many global travelers want to feel and enjoy the natural beauty that is on Mount Bromo. Before continuing to discuss the Bromo tour package and quote the price, below I will review something you need to know about Mount Bromo and how you can enjoy it.
Everyone agrees that the view of the sun rising from the top of Mount Bromo is one of the best in the world.
You can feel the beauty of Mount Bromo when you see pictures or photos of Bromo Mountain spread on social media, Facebook, Instagram, Twitter, etc.
Never been to Bromo? You will think to immediately visit Bromo in the near future and explore all the best spots in the region.
Below are some things you need to know about Mount Bromo, How to arrange a Tour to Bromo? choose the right time and suitable accommodation.
Check it out …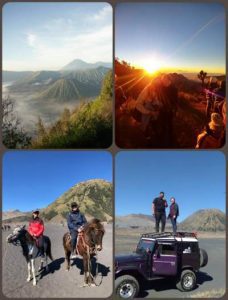 What is Mount Bromo ? (Best Tour 2023)
Mount Bromo is an active volcano in East Java, Indonesia. A 3-hour drive from the Surabaya or Malang City. Mount Bromo has an altitude of 2,392 meters above sea level and is located in four districts in East Java, namely Probolinggo, Pasuruan, Lumajang and Malang Regency. Mount Bromo is part of the Bromo Semeru Tengger National Park.
The visit of local tourists and foreign tourists is always crowded every day. You have to really arrange a tour of Mount Bromo so you can have fun. The first step to organizing a Bromo tour is as follows.
How do you get to Mount Bromo Tour ?
This is the first part you need to know. How easily you can get to Bromo depends on where you are from. Then look for the closest location to Mount Bromo, for example, Surabaya city (East Java), Yogyakarta City (Central Java) which has direct access from abroad by flight or to the Malang city if you are already in Java, Indonesia.
Getting to Mount Bromo from Surabaya
Mount Bromo is located 3-4 hours drive from Surabaya. If your destination to Bromo includes watching the sunrise and without staying overnight then you must leave Surabaya to Bromo at midnight. For organized tours, there are several choices of private tour packages to Bromo from Surabaya, as follows:
Bromo Midnight Tour
Bromo Tour 2D1N
Getting to Mount Bromo from Yogyakarta
The overland trip to Bromo from Yogyakarta is 7-8 hours (via toll). You can't go on a sunrise tour right away because it's far and tiring. Yogyakarta Bromo tour is recommended to take a train or airplane to Surabaya or Malang, or closer to take a train to Probolinggo station which is 1 hour from Bromo.
Getting to Mount Bromo from Malang
Bromo tour from Malang is not much different from the Surabaya Bromo tour. The distance to Bromo is almost the same. If you choose an organized private tour, please see the details here. Bromo tour package from Malang.
Getting to Mount Bromo from Probolinggo
This is the closest area to Mount Bromo, an hour's drive away. Upon arrival in the city of Probolinggo, you can choose to join another group tour or a private trip to Bromo sunrise tour from Probolinggo.
Should you do the Bromo Tour Organized or Do It Yourself?
Many questions from tourists who are going to Bromo for example, should do it the Bromo tour by private or do it yourself?
The answer is quite difficult because we need to know what the problem you are hesitant to choose one of the two ways between a private organized tour or doing it yourself without the help of a local travel agent.
From the price for a private tour it is quite expensive if the number of participants in your group is small but you will get real convenience. Whereas when choosing to arrange your own trip the price is cheaper but too much time is wasted. And both are very understandable.
So, basically, choosing a private tour is still feasible because it only requires a few extra costs. Another benefit of organized Bromo tours is that all accommodation needs are provided, and you can freely add other spots that are close to your destination to Bromo, for example, Madakaripura waterfall, etc. Or if there is more time you can at the same time visit the Ijen crater, Tumpak Sewu waterfall, Mount Semeru, Ranu Kumbolo, etc.
Also Read :
Bromo Madakaripura Waterfall Tour
Mount Bromo Ijen Tour
Mount Bromo Tumpak Sewu Waterfall Tour
Bromo Semeru Trekking
Bromo Ijen Tumpak Sewu Waterfall Tour
What places must be visited in Bromo?
The first place you should visit is the location to see the sunrise with a choice of Mount Penanjakan point view 1 (recommended), Kingkong hill, Love hill, Mentigen hill, Seruni point. Next to the sea of ​​Bromo sea of sand and then walk towards the Bromo crater.
There are also some tourists who visit savannah, Teletubbies Hill and sand whispering an additional fee for jeep rental.
Also Read: Bromo Milky Way Tour and Mount Bromo Camping Tour
When is the best time to tour Bromo?
The best season to tour Bromo is during the dry season based on the tropical climate in Indonesia. Usually lasts from April to October. And the most perfect in July – August.
How much does the Bromo tour cost?
Bromo tour prices for private adjusted to the number of participants in your group and the date of your plan. For more details, please contact us.
Whatsapp : +6281-252-370-780
E-mail : bromomalangtour@yahoo.com