Join Group Tour To Bromo Ijen Crater. You are a traveler and really want to take a tour of Mount Bromo and Ijen Crater. But the cost of the tour package is very expensive if it has to be borne by itself, so here we provide convenience, namely by joining the tour package program with other groups to Mount Bromo and the Ijen Crater Blue Fire.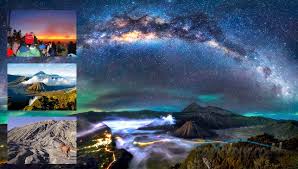 bromopackagetour.com an online site from a travel company that allows to help you join other groups of people to do it rather than tour Bromo and Ijen in Java.
Traveling with a private tour where it's only you alone, paying too much accommodation costs because it doesn't spread among tour groups. Bromo Ijen tour package price a good when you are lucky enough to have a group with many participants.
Read : Group Tour to Mount Bromo
You will also have difficulties if you have to reach Mount Bromo and Ijen in Java Indonesian without the help of a tour agent. If you are not experienced, you should look for a travel agent that offers Mount Bromo sunrise, Ijen with blue fire through a sharing package to Bromo Ijen from Surabaya and Yogyakarta.
Join Group Tour to Bromo Ijen
Why does the package join Mount Bromo and Ijen Crater Lake a lot from Surabaya and Yogyakarta and finish at Ketapang Harbor to Bali? most foreign tourists who come to Indonesia will visit Jogja first then head to Bali at the same time to Bromo and Ijen during the trip and so on. If you are lazy on a long road trip you can choose to transit in Surabaya (Yogyakarta to Surabaya) by train or plane to tour to Bromo Ijen before going to Bali.
Itinerary Group Tour Bromo Ijen From Yogyakarta – Surabaya
Day 1: Arrival of the airport or train in Sby or Jogja. Direct transfer to Mount Bromo. Check in at the hotel near Bromo. Break
(3-4 hours drive from Surabaya to Bromo)
(9-10 hours drive from Yogyakarta to Bromo)
Day 2: Wake up at 3am. Go up Bromo (sunrise) at 4 am and proceed to Bromo crater then return to the hotel at 9 in the morning. Breakfast + check out at 11am. Transfer to hotel near Ijen (4-5 hours drive). Check in and rest
Day 3: Wake up at 3-4 am + check out. Go up to Ijen crater at 5 in the morning. 9 o'clock in the morning A trip to the ferry port ketapang to Bali (2 hours drive). Finished
Bromo ijen package join tour not including ijen with blue fire so if you are interested in taking blue fire tour, you can confirm it earlier.
Bromo Ijen Group Tour Price (Join Other People)
Do not have friends and you solo travelers want to find Bromo Ijen tour group so that the cheaper tour package costs can booking the join group to mt.bromo and ijen tour package 3 days 2 nights with prices and facilities as follows.
Bromo Ijen Join Tour Package Price for 1 person (solo traveler)
* more than 1 participant please contact us.
Price Included Sharing Tour Package:
Local driver with litle english speaking, Transportation sharing
Jeep sharing for Bromo Sunrise tour
Fuel and parking fee
1 Night hotel in Mt Bromo area (sion or yoschi) and breakfast
1 Night hotel in the Ijen Crater area (arabica/catimor) and breakfast
The local trekking tour guide to climb on Ijen Crater
Entrance Fee for all tourism objects
Price Excluded:
Savvana Mt Bromo and whispering sand
Horse in Mount Bromo
Personal insurance and expense
Blue Flame Ijen Crater
Lunch and dinner