Mount Bromo Tour Joining Others Group is a joint trip with other people or groups to vacation at Mount Bromo with a scheduled time. Want to go to Mount Bromo but no friends are invited so that it is too expensive if you have to go to Bromo alone?
Tour mount Bromo joining others offered by bromopackagetour.com are the solution. With the Bromo tour package by joining other people, it will minimize the cost of your trip. With a cheap bromo package price you can still depart and visit the most popular spots on Mount Bromo such as Sunrise on Bromo Peak, Bromo Crater, Teletubbies Hill, Savanna and Whispering of Sands.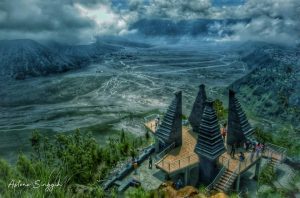 Mount Bromo Tour Joining Others Group
The price a joining tour to mt.Bromo with a group is very cheap, only IDR. 750,000 per person specifically for foreign tourists departing from Surabaya or Malang with complete facilities.
For a joint tour to Bromo from Malang, you are free to schedule a tour because you can leave at any time but the tour to Bromo from Surabaya with other groups is only available every weekend.
(Itinerary) Group Tour to Mount Bromo
22.00-00.00 : Meeting Point in Surabaya Town or Malang Town and Transfer to Sukapura Probolinggo.
00.00-01.00 : Sukapura, preparation for Gunung Penanjakan (Change Car to 4WDJeep Bromo)
1:00 to 3:00 : Sukapura – Penanjakan View Point Sunrise
03.00-06.00 : Sunrise on Mount Penanjakan, Photo session
06.00-07:00 : Mount Penanjakan – Bromo Crater
07.00-09.00 : Free Time of Bromo Crater & Mount Batok, photo session
09.00-09.15 : Bromo Crater – Whispering Sand
09.15-09.45 : Free Time of Whispering Sand,
10.00-10.40 : Free Time Teletubbies + Savanna Hill, photo session
11.00-12.00 : Back to parking area and Return to Surabaya or Malang. Finish trip to mount bromo joining with other group.
Tour Groups to Mount Bromo Includes :

With this price you have got the following facilities.
– Standard tourist transportation (Ac, Full Music)
– Gasoline, parking,
– Jeep / Hartop bromo
– Entrance tickets in Bromo
Related Bromo tour :