Mount Semeru Bromo Ijen Trekking 5D4N. 5 Day hike to an active volcano on Java Indonesia. The most popular volcano in East Java which is an adventure destination for climbers from all over the World is Mount Semeru, Bromo and Ijen Crater.
Exploring Mount Semeru as the highest peak on the island of Java combined with the best sunrise tour in Bromo and climbing at night to enjoy rare natural phenomena in the Ijen crater is an activity you will never forget.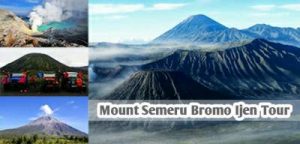 Mount Semeru Bromo Ijen Trekking 5 Days 4 Nights
Hiking Tour to Semeru Bromo Ijen 5D4N starts from Surabaya and ends at the same place or goes to another location according to your plan. The most ideal trekking trip is 5 days 4 nights fully organized with a private trip with details of a 2-night hike to Semeru, 1 night at Mount Bromo and 1-night at Ijen crater.
A trusted local travel company that can arrange climbing tours to the 3 best volcanoes in East Java with complete facilities you can get by booking through bromopackagetour.com
Semeru Bromo Ijen Tour regulated as closely as possible for smooth during travel of the pick-up until the end of the tour. You no longer need to bother setting up camping equipment and hiking logistics because here it is fully available. Below is the tour itinerary and price/cost of Semeru Bromo Ijen Tour Package from Surabaya 5 days 4 nights.
5D4N Semeru Bromo Ijen Volcano Tour Itinerary
DAY 01: SURABAYA PICK UP – HOMESTAY

Pickup you up at your arrival in Juanda Airport Surabaya then directly drive to Malang, It takes a 3 – 4 hours trip, overnight in Tumpang Homestay, Ranu Pani Homestay
DAY 02: RANU PANE – KUMBOLO LAKE – KALIMATI CAMP (B,L,D)
Trekking Semeru starts in the early morning, after breakfast and prepare anything for trekking by 4wd Jeep drive to Ranupane, then continued trekking Ranu Kumbolo, rest and lunch here. After that continued trekking to Kalimati Base Camp its take about 7- 8 hours, overnight at Kalimati Camp
DAY 03: MOUNT SEMERU SUMMIT (3676 M) – TOUR BROMO (B,L)
Mount Semeru Tour Trekking start summit at 02 am, we ready to reaching the peak of Mount Semeru (highest land in Java), it takes around 3-4 hours trekking to the peak of Mount Semeru, then trekking back to Ranu Pane Village and after complete for Semeru trekking tour continue trip by 4wd Jeep drive to Cemoro Lawang, stay overnight at Bromo Hotels.
DAY 04: BROMO SUNRISE TOUR – MOUNT BROMO – MT IJEN TRIP (B)
Tour to Mount Bromo start in the early morning we will take you to drive by 4WD Jeep to see the spectacular and stunning sunrise from peak Penanjakan. In this place, viewpoints enjoy the magnificent view of Mount Semeru and Mt Bromo. Then we will drive you cross of sea sandy area. From jeep parking area hiking to rim of Mount Bromo Volcano. From here you can see the sea of sands and viewing the Holy Hindu's temple held by local Tenggerese Tribe from Bromo it's called Pura Ponten. Back to Hotel breakfast and then after check out will drive to the hotel in the Mt Ijen area. This trip around 5 hours driving. Check-in the hotel and rest.
DAY 05: IJEN BLUE FIRE – SURABAYA OR FERRY BANYUWANGI TO BALI (B)
Trekking Ijen blue fire tour starts midnight from the hotel, Driving for 1,5 hours to Paltuding Post. Start trekking to Ijen Crater around 1,5 – 2 hours hiking. Enjoy Ijen blue fire from the with its famous blue acid lake and the hot, partly liquid sulfur deposit. The magnificent view is blue-green vapor comes from hot sulfur. After explore of ijen volcano blue fire, descend down leave the Ijen Plateau and directly transfer out drive to Surabaya or Ferry Port to Bali. Arrive at Surabaya around 5-6 p.m or Arrive at Ferry Port Ketapang around 10 a.m. End our Climbing trips Semeru Bromo Ijen 5 Days.
Mount Bromo Semeru Ijen Tour Package Price 5 Day 4 Night
| Total Person | Price Per Person (IDR) |
| --- | --- |
| 1 Person | 10.950.000 |
| 2 Person | 7.350.000 |
| 3 Person | 6.400.000 |
| 4 Person | 5.950.000 |
| 5 Person | 5.650.000 |
Price includes:
– Private Car full AC For pick up and transfer out and Bromo Ijen Tour
– Include driver, fuel/gasoline, toll, and park fee
– Accommodation at a guest house near mount semeru, such us at Ranu Pane Homestay, Tumpang Homestay
– Accommodation hotel near Mt Bromo
– Accommodation hotel near Mt Ijen
– Jeep 4WD for Mount Bromo Tour
– Entrance fee Ticket to mount semeru Tour
– Insurance Permit for Trekking Semeru
– Porters Team (amount depend of participant)
– Tent, Mattress, Sleeping Bag,
– Breakfast, Lunch, and Dinner during Mt Semeru Trekking
– Medical check-up for a Climbing permit
– Mineral water drink during the trip
– English Speaking guide and experienced for Semeru Trekking
– Local Guide for Ijen Trekking
– Gask Mask in Mt Ijen
Exclude :
– Air Fare and Airport Tax
– Personal Travel Insurance
– Additional meal, Soft drink, Refreshment
– Personal Expenses
– Tips.
Mileage for Semeru Volcano Trekking
Start from Ranupane Village (2200 m) to Ranukumbala Lake (2400 m) → approx. 4 – 5 hours
From Ranukumbala Lake (2.400) to Kalimati Camping site (2700 m) → approx. 3 – 4 hours
From Kalimati Camping site to Summit of Semeru Volcano (3676 m) → approx. 5 – 6 hours
From Summit of Semeru Volcano (3676 m) to Ranukumbala Lake (2400 m) → approx. 3 and half hours
From Ranukumbala Lake (2400 m) to Ranupani Village (2200 m) → approx. 4 – 5 hours
From Ranupani Village to Surabaya → approx. 5 – 6 hours.
The best trekking season for Mount Semeru, Bromo and Ijen Crater
The best trekking season is during the dry season from May to November. Mount Semeru is usually closed to pedestrians during the rainy season from January to the end of April. Ijen Crater is always closed every Friday in the first week at the beginning of the month. Mount Bromo is always opened as long as there are no serious problems like erupting.
What should I wear for a trip to Semeru Bromo Ijen
The synthetic material shirt dries quickly (can be either short or long sleeves) as a base layer, a good quality wool coat / wool jacket for the middle later and thick windproof jacket as an outer layer. Waterproof and windproof trekking pants and a pair of wool gloves, beanie and scarves for additional cold protection
What was the menu like during the trip to Mt. Semeru
White rice, fried rice, soup, fried chicken, omelet, soup, noodles soup /noodles fried
toast, sandwich, coffee, tea, chocolate, mineral water, biscuits, fruit (orange, melon, apple, pear, pineapple, banana, …)
The menu is adjusted to the duration of the trekking and always changes the menu.