Bromo Ijen Tour From Bali or 3 Days 2 Nights Bali to Mount Bromo and Ijen Crater to view golden sunrise and blue fire. On this trip, you will pass through rural scenery in West Bali then cross by ferry to Banyuwangi. You can end the trip to mount Bromo and Ijen crater from Bali to Surabaya or back to Bali.
The best trip to the Bromo and Ijen volcanoes is one of the most popular tours where you will be invited to view the sunrise on the summit of Mount Bromo and see the beauty of the blue fire at Ijen which is one of the wonders of the world because of the natural phenomenon of blue fire at Ijen. find in 2 places in the world.
Bromo Ijen Tour From Bali 3D2N
A 3-day tour in Java from Bali to Bromo Ijen is an adventure for 2 active volcanoes that have a different natural beauty charm. Mount Bromo has a special view of the sunrise and sea of ​​sand while Mount Ijen is known for its views of blue fire and sulfur crater lake.
Between each of these mountains can be reached by 4-5 hours drive. You should stay at Bromo and Ijen if you plan to visit. Because the tour on both volcanoes starts at night from the hotel. You have to ride the jeep early in the morning to tour Mount Bromo, while at Ijen crater you have to climb at midnight. Here are the details of the trip.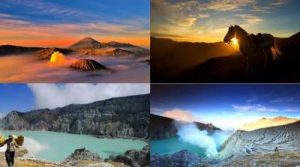 3 Days 2 Nights Bali Ijen Bromo Tour Itinerary
Day 01: Picked up from Bali – Banyuwangi Hotel
Starting from your hotel in Bali (Denpasar, Sanur, Kuta or Ubud areas, etc.), our staff will pick you up and escort you to the Bali Gilimanuk ferry port for about 3 hours driving, then from Gilimanuk Harbor, take the ferry and cross the strait Bali for about 1 hours to the Ketapang Banyuwangi ferry port. Upon arrival at the Ketapang ferry port, head to the Hotel for overnight and prepare for the hike to mount Ijen.
Day 02: Ijen Blue Fire Tour – Bromo Hotel
Get up at midnight and prepare to drive to Mount Ijen for 1 hour. Upon arrival at Paltuding camp then hike to the top of Mount Ijen accompanied by a local guide. When climbing Mt. Ijen, you are required to wear a gas mask because the strong sulfur smells can be dangerous for visitors.
After exploring Mount Ijen with views of blue fire and Ijen Crater Lake, hike down to Paltuding and our driver will drive you directly to the Mount Bromo area around 4-5 hours including stop on the road for lunch at a local restaurant. Upon your arrival at Mt. Bromo, Check in hotel and rest
Day 03: Bromo Sunrise Penanjakan – Drop Off Bali or Surabaya
At 3 am in the morning, Jeep will pick you up and take you to the world-famous Mount Bromo Tour sunrise viewpoint on Mount Pananjakan on the edge of the Tengger caldera. From here you can also see the landscape of mountain ranges including Mount Bromo, Mount Batok, and Semeru Volcano as background. After that, the adventure with the jeep continued into the sea of ​​Bromo sand. From the parking lot, then walk or rent a horse to the Bromo Mountain stairs. Then go up the stairs about 250 steps to reach the Bromo crater. After the complete tour, back in the jeep parking lot and the jeep will bring you back to the hotel to have breakfast, take a shower, pack, load bags, go to the vehicle and then we will return to Bali or continue to Surabaya. Tour Completed.
3D2N Bali Bromo Ijen Tour Price
Bromo Ijen Tour Package Price from Bali adjusted to the last location of the tour will be transferred. Do you want to return to Bali or ends in Surabaya city. Here are the price details, if you have anything to discuss, don't hesitate to contact us
3D2N Bali Bromo Ijen Surabaya Tour Price

| Participant | Price Per Person (IDR) |
| --- | --- |
| 1 | IDR 7.350,000/pax |
| 2 | IDR 3.925,000/pax |
| 3 | IDR 3,050,000/pax |
| 4 | IDR 2,600,000/pax |
| 5 | IDR 2,300,000/pax |
3D2N Bali Bromo Ijen Bali Tour Price

| Participant | Price Per Person (IDR) |
| --- | --- |
| 1 | IDR 8.850,000/pax |
| 2 | IDR 4.675,000/pax |
| 3 | IDR 3,550,000/pax |
| 4 | IDR 2,975,000/pax |
| 5 | IDR 2,600,000/pax |
Tour Include Facilities

Private car for trips ( licensed driver, fuel, private car with AC, toll ticket, parking )
4WD jeep for Bromo Sunrise
All entrance to the National Park Bromo and Ijen Crater
Local guide for Ijen Blue Flame Tour
1-night Hotel in Bromo
1-night Hotel in Ijen Banyuwangi
Bromo Sunrise Tour & Ijen blue flame tour
Breakfast
Mineral water is available in the car
Gas mask rent in ijen
Ferry Ticket
Facilities not include:
Horse
Meal (lunch and dinner)
Tipping
Notes : If the hotel is not suitable it can be upgraded at an additional cost according to the rate. The following is the choice of hotel in bromo and ijen area.
Hotel of Mt. Bromo area (Cafe lava Hostel, Bromo Permai Hotel , Cemara Indah Hotel, Yoschi Hotel, Adas Hotel, Nadia Hotel, Similar) . Extra payment upgrade to Whiz Capsule Hotel Grand Bromo , Lava View Lodge, Sumber Makmur Hotel, Jiwa Jawa Resort, Bromo Terrace Hotel , Bromo Eco Lodge Hotel , Plataran Bromo Hotels And Resort/Similar).
Hotel of Ijen Crater area (Ijen View Hotel, Arabica Guest House, Catimor Hotel/ similar). Extra payment upgrade to Ketapang Indah Indah Hotel, Watu Dodol Cottages , Aston Hotel, Santika Hotel, Ijen Resto, Ijen Resort and Villas, Mirah Hotel /similar).