Mount Bromo Tour From Surabaya. If you want to go to Bromo volcano with a direct departure from Surabaya airport, the train station or hotel can choose Mount Bromo from Surabaya. Surabaya to Bromo mountain is only about 3 hours away by private transport.
bromopackagetour.com is a local tour agent providing a trip to Mount Bromo from Surabaya with a private tour, low prices and complete facilities. Thus your travel arrangements are easier with Bromo tour package, can join at any time without waiting to join other participants. You are also free to choose suitable accommodation.
Mount Bromo Tour from Surabaya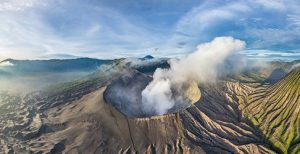 Mount Bromo is a volcano in East Java Indonesia. The city of Surabaya is the capital city of East Java Province which has an international airport and train station as well as a bus terminal which is the easiest access to reach Mount Bromo through the city of Surabaya. Surabaya to Mount Bromo is 100 km away which can be reached by driving for 3 hours.
Arriving in the city of Surabaya and want to go on vacation to Mount Bromo, there are several choices of Bromo tour package from Surabaya that you can choose including:
Mount Bromo Midnight (Without Stay)
At midnight (00.00am ), our team will pick you up in Surabaya city. Pick up locations can be from hotels, train stations, bus terminals, airports and other public areas.
After meeting with our team and then leaving for the Bromo area with a trip duration of 3 hours driving. Arriving at the jeep post then changing to a Bromo jeep tour vehicle to start exploring all tourist attractions on Mount Bromo.
Tourist attractions that will be visited by jeep are the peaks of climbing which become the vantage point of the sunrise and then continue to the sea of ​​sand and the crater of Mount Bromo.
Around 08.00 am, the jeep will take you back to the suttle jeep post. Our team immediately took us back to the city of Surabaya and finished the tour.
Mount Bromo 2 Days 1 Night

Day 01 Pick Up Point In Surabaya – Mount Bromo Hotel
After arrive in Surabaya direct us to pick up and transfer to hotel near Mount Bromo. Long journey from Surabaya to bromo hotel about 3-4 hours.

Check in hotel in bromo and free program.
(If you are not interested in staying at the hotel, here we provide a choice of camping tour on Mount Bromo.)
Day 02 Bromo Tour Sunrise – Bromo Crater – Transfer Out To Surabaya
Tour to Mount Bromo starting at 03.30 by jeep 4WD Going to view point of peak Pananjakan to see the sunrise bromo and the Mount Bromo,Mount Batok,Mount Semeru panorama.

After finish enjoying sunrise bromo then going down the hill by jeep 4WD and proceed visit the sand sea then climb up to mount Bromo from parking jeep area.

After finish visit bromo crater back to hotel, breakfast and transfer back to Surabaya, Tour Ended.
Surabaya Bromo Tour Package Price
Surabaya Bromo Midnight Tour Price
| Participant | Price Per Person (IDR) |
| --- | --- |
| 1 | IDR 2.300,000/pax |
| 2 | IDR 1,300,000/pax |
| 3 | IDR 1.000,000/pax |
| 4 | IDR 800,000/pax |
| 5 | IDR 700,000/pax |
| 6 | IDR 650,000/pax |
Surabaya Bromo 2 Days Tour Price
| Participant | Price Per Person (IDR) |
| --- | --- |
| 1 | IDR 3.500,000/pax |
| 2 | IDR 1,950,000/pax |
| 3 | IDR 1,650,000/pax |
| 4 | IDR 1,350,000/pax |
| 5 | IDR 1,200,000/pax |
| 6 | IDR 1,100,000/pax |
How to Get Surabaya – Mount Bromo
Mount Bromo is located in Bromo Tengger Semeru National Park, which occupies four border areas in East Java Province, namely Probolinggo, Malang, Pasuruan and Lumajang Regencies.
To reach Mount Bromo from Surabaya, you can take the overland route to Probolinggo to Cemoro Lawang. From Cemoro Lawang village, then check in the hotel. You will use a jeep to explore Bromo, which is to go to Penanjakan and explore the sea of ​​sand and the crater of Mount Bromo. Bromo tour from Malang can also be the best choice for trip to mt. Bromo.
This volcano is very famous for its beautiful sunrise views, tourists have to climb in the morning to Mount Bromo to enjoy the moment of sunrise. For those who don't have enough time to spend the night, there are package to choose from to enjoy the sunrise at Bromo, is Mount Bromo tour midnight.
Besides enjoying Bromo Sunrise, a tour that is currently popular in Bromo is photography enjoying the beauty of the night sky in Bromo. Mount Bromo Milky Way Tour is photography of the stars.