Mount Bromo Madakaripura Waterfall Tour Package 2 Days 1 Night, Package tour to Mount Bromo 2D1N combined with visiting Madakaripura waterfall that sites close to the location of Mount Bromo. Offers package tour to visit Mount Bromo to enjoy the beauty of the sunrise bromo and bromo crater and visiting the Madakaripura waterfall with a journey time 2 days 1 night.
Mount Bromo and Madakaripura Waterfall Tour, is one of the tour trekking to Mount Semeru Bromo Tengger National Park. If you visit Mount Bromo Tour From Surabaya in the morning can go straight to the Madakaripura waterfall with duration trip around 2,5 – 3 hours driving before check-in the lodging/hotel near Mount Bromo.
Bromo Madakaripura Waterfall Tour 2 Days 1 Night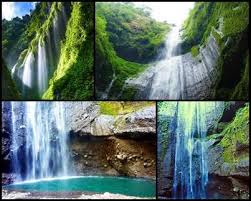 This travel package is specifically for tourists who come to Bromo through Probolinggo because Madakaripura waterfall is located in the lumbang village in Probolinggo district. Going to Bromo can pass Malang, Pasuruan, Lumajang, and Probolinggo, so don't the wrong direction to Bromo if there is a destination to visit Madakaripura waterfall.
Madakaripura Waterfall with a height of 200 meters, is the highest waterfall on the island of Java and the second in Indonesia is in a narrow valley and shaped in a niche surrounded by steep cliffs that dripping water on all areas of the cliff like in the rain, for reasons of this beauty You have to take the time to visit this waterfall which is only 30 minutes driving and in the same direction to the location of Mount Bromo.
Itinerary Tour 2D1N Mount Bromo Waterfall

Day 01 : Pick-Up Point –  Madakaripura Waterfall – Hotel Mount Bromo
Around 6am – 10am, Pick up with a private car from Surabaya or Malang, then go to the area Mount Bromo with a 3 hours duration.

1 pm – 3 pm, arrived at lumbang village stop and visit Madakaripura waterfall.

3 pm – 4 pm, After finish enjoying Madakaripura waterfall keep on drive to hotel in bromo,check in and then enjoying the atmosphere of Mount Bromo East Java.
Day 02 : Mount  Bromo Sunrise – Bromo Crater – Drop Off

3 am, morning call for preparing the Bromo trip by Jeep 4WD

3.30am, depart from hotel to Mount Pananjakan view point sunrise Bromo. After arriving at Pananjakan (view point first), walk for 10 minutes to Location View Point is Penanjakan 1 Bromo to wait for the publication of sunrise / Bromo Sunrise, then went on to tour the vast  desert that is known as the Sand Whisper, with background behind  the beautiful, namely Mount Batok and Mount Semeru  (highest mountain at 3,676 meters above sea level) to settle and finish. After completion  enjoying beauty of Mount Bromo from the view point, back to the Jeep and  continued visitation to Bromo crater with stop in a sea of sand (the parking  lot) and walk for 30  minutes or to rent a horses for 15 minutes.

8 am, finish enjoy Bromo crater then back to the hotel for breakfast, bathing and transfer out  to Surabaya or Malang.

Tour finished.
Mount Bromo Madakaripura Tour Package Price 2D1N
| Participant | Price Per Person (IDR) |
| --- | --- |
| 1 | IDR 3.500,000/pax |
| 2 | IDR 2,200,000/pax |
| 3 | IDR 1,900,000/pax |
| 4 | IDR 1,500,000/pax |
| 5 | IDR 1,400,000/pax |
Tour Incudes :
– Transport Private In / Out Surabaya International Airport, Train Station, Hotels or Others Public Area (gazoline + driver)
– Accomodation 1 Night Hotel in Bromo
– Entrance fee Bromo and Madakaripura Waterfall
– Jeep 4WD Sunrise Tour Bromo And Bromo Crater
– Local Guide In Madakaripura
– Rent MotorBike At Madakaripura
How to get Mount Bromo & Madakaripura Waterfall

To Mount Bromo and at the same time stopping by to visit Madakaripura Waterfall is one of the right choices for a vacation to Bromo and its surroundings because Madakaripura Waterfall is located on the slopes of Mount Bromo, precisely in Lumbang Village, Probolinggo Regency.
To be able to visit Madakaripura waterfall, you have to go to Mount Bromo via Probolinggo. Departing from the city of Malang or Surabaya then heading to Probolinggo not / via the toll road. The trip must start in the morning if you want to go to Madakaripura waterfall on the first day. However, if you come during the day, as an alternative, visit Madakaripura Waterfall on the second day after the Bromo tour is finished and on the way back to Malang or Surabaya.
Important Notice : During the rainy season, visiting Madakaripura is not recommended because it is very dangerous. The path to the Madakaripura waterfall is across the river so that when it rains it is prone to flooding.
Bring a change of clothes, sandals/flip-flops and umbrella because after leaving the Madakaripura location, you will get soaked.