Bromo Tengger Semeru National Park is a National Park in East Java, Indonesia, which is located in the administrative area of Pasuruan Regency, Malang Regency, Lumajang Regency and Probolinggo Regency. This park has been established since 1982 with an area of about 50,276.3 ha.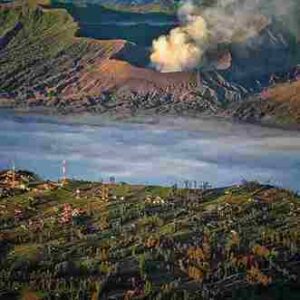 In contrast to national parks in general, TNBTS does not have such a striking richness of flora and fauna. Precisely the main attraction of this area is the charm of its extraordinary natural beauty. Even the Ministry of Tourism has designated the TNBTS area as a National Tourism Strategic Area because it is a mainstay tourist destination in East Java, even nationally.
Also Read : Mount Semeru – Beauty and Danger The highest volcano on Java
Bromo Tengger Semeru National Park
Bromo Tengger Semeru National Park has a long history before it officially became a national park, this area is a forest that has a function as a tourism forest and nature reserve as well as a production forest and protected forest.
Also Read : Madakaripura Waterfall, Know the History, Location, Route and Entrance Fees
Based on this function, the World National Parks Congress designated this area as Bromo Tengger Semeru National Park at a meeting held in Denpasar, Bali. This meeting was held on October 14, 1982.
Several considerations that became the basis for changing the status of this area are the environmental and natural conditions that need to be protected, as well as the diversity of traditional potentials that also need to be preserved. On that basis. on November 12, the Indonesian government inaugurated this area as a national park.
Also Read : Mount Bromo – The Beautiful Volcano in Java Indonesia
Flora
Bromo Tengger Semeru National Park has sub-montane, montana and sub-alphin ecosystem types with large and hundreds of years old trees, including mountain pine, jamuju, edelweiss, various types of orchids and rare grasses.
Fauna
Rare and protected animals found in this national park include mongoose (Paradoxurus hermaphroditus), deer (Rusa timorensis), long-tailed macaque (Macaca fascicularis), deer (Muntiacus muntjak), red jungle fowl (Gallus gallus), leopard (Panthera). pardus melas), ajag (Cuon alpinus javanicus); and various types of birds such as the kestrel (Accipiter virgatus), hornbill (Buceros rhinoceros silvestris), snake eagle bido (Spilornis cheela bido), black srigunting (Dicrurus macrocercus), bondol eagle (Haliastur indus), and grouse that live in Ranu Pani , Ranu Regulo and Ranu Kumbolo.
Location and Topography
Geographically, This National Park is located between 7°51′ – 8°11′ South Latitude and 112°47′ – 113°10′ East Longitude. While the administrative location is in the districts of Pasuruan, Malang, Lumajang, and Probolinggo, East Java.
Bromo Tengger Semeru National Park has a stretch of landscape from west to east along 20 km – 30 km and a landscape from north to south along 40 km. In this area there is a sea of ​​​​sand caldera covering an area of ​​​​6,290 hectares. The sea of ​​sand caldera is bordered by steep rock walls with a height of between 200 and 700 meters.
The topography of this national park area is quite varied, ranging from bumpy with gentle slopes, hilly, to mountainous. Some areas have an upright slope. Overall this national park is a highland located between the Tengger Mountains in the north, and Mount Jambangan in the south. Overall, Bromo Tengger Semeru National Park is a small area located at an altitude of 750 to 3,676 meters above sea level.
Climate and Hydrology
Based on the climate classification of Schmidt and Ferguson, the climate in the Bromo Tengger Semeru National Park area is type A. The humidity in the sandy sea area includes a maximum height of 90-97% and a minimum of 42-45%. While the air pressure is 1007.0 – 1015.7 mm Hg.
Temperatures in this area are in the range of 5° Celsius – 22° Celsius with the lowest temperature at the peak of the dry season being 3° Celsius – 5° Celsius. Because it is a volcanic area, this area is almost dry. Water supplies are obtained from rain and also the lakes in this area.
Activities
There is much that can be done when going to this national park including tourism, culture and hiking. Popular tourist sites located in this National Park include Mount Bromo, Ranu Kumbolo and Semeru.
Interested in going to this place? immediately contact bromopackagetour.com, because here we have many tour packages that combine the destinations of Mount Bromo, Ranu Kumbolo and Mount Semeru :