Ijen Crater tour guide. Ijen Volcano is a turquoise-coloured acidic crater lake that is 1-km wide and located in the Banyuwangi regency, east of Surabaya. It is the world's largest highly acidic crater lake. This page will cover the basic Ijen Crater guide as well as tips on how to get to Ijen Crater (Kawah Ijen) itself.
Related article : Ijen Crater – The largest sulfur crater lake in The World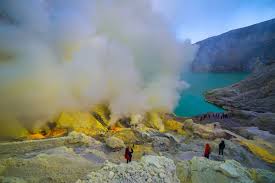 There are generally three main sights visitors can witness around the Ijen Volcano:
The magnificent and out-of-this-world blue flame around the crater, usually involves midnight hiking.
Manual sulfur mining where workers carry baskets of sulfur up and down the crater.
Glorious sunrise
To catch the blue flame, you need to start hiking around midnight. The blue flame will be visible until 5am (before the sun rises)
After witnessing the blue flame, you can then see the majestic sunrise as well as the sulphur miners doing their hard labour
A trek up to the rim and crater will take up to 3 hours. The high altitude and sulfur in the air will affect your speed, despite your fitness level. So the overall trek to and from the crater will take you a total of approximately 6 hours
Wear enough layers of clothing and bring a bag along. It can be quite chilly during the midnight trek and early morning up the crater. But as the sun rises and on your way back to the post, it might get a little warm
Wear comfortable and sturdy sports shoes for support and safety. Wear heels and slippers at your own risk!
Wear gloves if you're really averse to cold. The gloves could also help you when you need to hold on to the rocks or ground during the trek
Leave your jewellery at home / the hotel. You're not looking for a life partner up at the crater, plus the sulfure might just discolour or damage your precious gems
Do bring along a protection mask (or even a gas mask) to protect you from sulphuric gas during your trek.
To guide your path through the darkness during the hike, do consider bringing along a headlamp or a torch light.
If you could, support the sulphur miners by buying some sulphur from them. They could be as little as S$1, MYR3, 0.75USD
Getting around Ijen Crater
If you are visiting Ijen Crater, we suggest that you get an accommodation nearby. One of the better hotels to consider will be at eL Royale Hotel & Resort Banyuwangi. The drive up north from the hotel will take you 1 hour 40 mins (48km).
There are plenty of buses, mini-vans, horse carts and Pedi cabs for you to get around Banyuwangi. You can either start your journey from Banyuwangi train station, Ketapang ferry port (for those coming from Bali) and the main bus terminal in Sri Tanjung.
Best Time to Visit Ijen Crater
Ijen Crater is open for exploration 24/7, 365 days a year. The best time to visit Ijen is during the dry season from April to October. Try to avoid travelling during the wet season from November to March where it has higher chances of rainfall.
At the moment, there are 2 routings into Ijen. The first routing is via Licin and the other via Bondowoso. If you are already in Java Island, the latter would be a better option for you. Alternatively, if you are coming from Bali to Ketapang Ferry Terminal in Banyuwangi, Licin will be a better option.
First and foremost, it's always good if your charted vehicle is up to standard. This is because the road you will be going through will be long and bumpy. Otherwise, your next best bet will be by using a 4WD Jeep. From Ketapang Ferry Terminal to Ijen via the Licin Routing, it will take you not more than 2 hours. Wheter or not you are taking a jeep in, take note that you'll still have to pay the entrance fee of a jeep, IDR500,000 (S$50, MYR150, USD38). Your next stop will be at the base camp for the hike.
If you are already in Java Island – coming from Surabaya, you will definitely be opting for this routing. The journey from Surabaya will take you more than 6-7 hours by car or up to 10 hours by bus. Through Bondowoso, you are required to charter your own vehicle (with a driver) and will cost you anything from IDR400,000 (S$40, MYR120, USD30) – IDR600,000 (S$60, MYR180, USD45). Your final destination will be Pos Paltuding base camp. The total duration of the trip will be 1 hour 45 mins – 65km away. From Pos Paltuding base camp, it will be another 90-minutes hike by foot up to the Ijen Crater.
For the most convenient and safest way to get to Ijen Crater and do the trekking, consider going for one of our private tours that include accommodation, vehicle, driver, guide, meals and tour: Ijen Crater Blue Fire Cheap Price