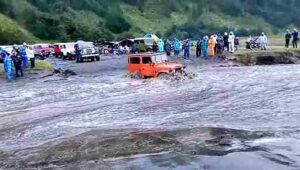 Mount Bromo Weather is very hot in the summer and cold during winter. The temperature ranges from 6°C (21°F) to 20°C (68°F) -. In Mount Bromo the weather is influenced by monsoon winds from October through January. The wind speed can reach up to 60 km/h on average during this period.
Mount Bromo Weather
The dry season runs from May through September, with January trought March being the rainiest time of the year overall.
From October through December, weather becomes more unpredictable. The temperature can change quickly and the weather can be sunny in the morning and rainy in the afternoon. This makes it difficult to predict when you should go out on your jeep or hike because you don't know if it will be dry or rain outside.
April is start of the dry season and often has clear weather in the morning hours, although afternoon storms can still be an issue. The peak months for tourism are July through August.
Best time to visit Mount bromo is May-September
Mount bromo is a popular tourist destination and the dry season is considered to be the best time to visit. The weather in this area is usually clear, with an average temperature of 20 degrees Celsius (77F) during daytime and 5 degrees Celsius (59F) at night.
During this period, you can enjoy clear skies and good visibility until noon when storms usually begin to occur from afternoon onwards. These storms can last for hours or even days depending on month you are visited Mount Bromo.
Other than these typical weather conditions, there are also some other factors that affect how much rain falls each year.
Mount Bromo is an active volcano, so you never know what might happen. The eruption of Mount Bromo was recorded in 1815 and 1872, as well as several other violent eruptions over the years.
The last time Mount Bromo erupted violently was in 1914 when a column of ash reached about 2km into the air above its crater. This eruption resulted in several deaths but no major damage or injuries due to its distance from populated areas
access to the volcano.
Mount Bromo is open all year, with some exceptions. Days of celebrations during Wulan Kapitu, Nyepi (Silent Day) around the new moon in February and March, it's almost impossible to get access to the volcano.
Mount Bromo is always open for visitors but some areas may be closed due to weather conditions such as rain, slide or erupt so make sure you check before you go!
Also read : Mount Bromo – The Beautiful Volcano in Java Indonesia
Weather can change quickly at Mount Bromo. Correct weather gear is essential to stay safe and comfortable.
It's important to be prepared for the weather. The weather can change quickly and unexpectedly, so always check the forecast before you go out.
You should also be prepared for rain, wind and sun!
The best time to climb Mount Bromo is during the dry summer months. Most visitors visit in July and August.
This is also a good time for beginners because you can get up at dawn and enjoy incredible views of the surrounding countryside before sunrise.