Mount Bromo is one of the most popular hiking destinations in Indonesia, known for its stunning sunrise views and otherworldly landscape. The Mount Bromo hiking tour is a must-do for anyone looking for an adventure in East Java. In this complete guide, we'll cover everything you need to know to plan your own Mount Bromo hiking tour, including the best time to go, how to get there, what to expect on the hike, and more.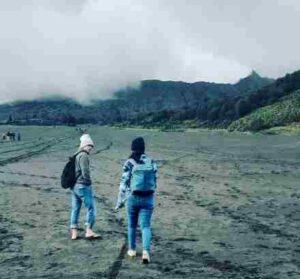 Mount Bromo Hiking Tour
Mount Bromo is an active volcano located in East Java, Indonesia. It stands at an elevation of 2,329 meters and is part of the Bromo Tengger Semeru National Park. The Mount Bromo hiking tour is a popular activity for adventure seekers and nature lovers. The hike takes you through a lunar-like landscape of ash and sand, with stunning views of the surrounding mountains.
Best Time to Go
The best time to go on a Mount Bromo hiking tour is during the dry season, which runs from April to October. During this time, the weather is clear and sunny, making it easier to see the stunning views of the sunrise and the surrounding mountains. However, it's important to note that this is also the peak tourist season, so be prepared for larger crowds and higher prices.
How to Get There
The easiest way to get to Mount Bromo is by flying into Surabaya, the capital city of East Java. From there, you can take a bus or hire a car to get to the town of Probolinggo, which is the gateway to Mount Bromo. From Probolinggo, you can take a jeep or motorbike to get to the base of the volcano.
Choosing a Tour
There are many tour operators that offer Mount Bromo hiking tours, ranging from budget to luxury options. When choosing a tour, make sure to do your research and read reviews from other travelers. Look for a tour that includes transportation, accommodation, and a knowledgeable guide.
What to Expect on the Hike
The Mount Bromo hiking tour typically starts in the early morning, with a jeep ride to the base of the volcano. From there, you'll hike up to the rim of the crater, which takes about an hour. The hike can be challenging, especially if you're not used to hiking in high altitudes. Make sure to bring plenty of water and wear comfortable shoes.
Mount Bromo Sunrise Tour
One of the highlights of the Mount Bromo hiking tour is the sunrise view from the top of the volcano. The sunrise tour typically starts around 4 am, with a hike up to the viewpoint in time for the sunrise. The view is truly breathtaking, with the sun rising over the surrounding mountains and casting a golden glow on the landscape.
Mount Bromo Sunset Tour
If you prefer to avoid the crowds and enjoy a quieter hike, the Mount Bromo sunset tour is a great option. The sunset tour starts in the late afternoon, with a hike up to the viewpoint in time for the sunset. The view is equally stunning, with the sky turning shades of pink and orange as the sun sets over the mountains.
What to Pack
When preparing for a Mount Bromo hiking tour, it is important to pack wisely to ensure a comfortable and enjoyable experience. Here are some essentials to consider bringing on your hiking trip:
Comfortable and sturdy hiking shoes
Warm layers such as a jacket, gloves, and hat
Sunscreen and sunglasses to protect against UV rays
A flashlight for early morning hikes
Snacks and water to stay hydrated and energized
Camera or smartphone to capture the stunning views
Personal first aid kit for any unexpected injuries or ailments
By packing these essentials, you can ensure a safe and enjoyable hiking experience on Mount Bromo. It is also important to keep in mind that the weather can be unpredictable, so it is always a good idea to dress in layers and prepare for changing temperatures.
Mount Bromo is a unique and breathtaking destination that offers visitors the opportunity to hike and explore a stunning natural wonder. With its otherworldly landscapes and fascinating cultural significance, Mount Bromo is a must-visit destination for any avid hiker or traveler. By following the tips outlined in this article, visitors can ensure a safe, enjoyable, and unforgettable hiking experience on Mount Bromo. For more information about Mount Bromo tour package price, please contact us !!